We are a full color publication serving the Raleigh/Durham area and surrounding counties. We specifically cater to locals and newcomers by delivering information on local businesses, news, and events.
How to prep your home for a new addition to the family
(BPT) - Whether it's a baby or pet, a new addition to the family calls for new, unexpected responsibilities, and is bound to come with adjustments for every member of the family. While it would be silly to guarantee zero stress for the new family environment, below are tips for a transition with more playtime and fewer headaches to help you get started.
Here's what you need to know:
Get ready in style
Prep the space with all the necessities needed to make your new addition's life as happy as possible. Based on the needs of your new child or pet, this could mean turning your home office or game room into a nursery, or finding the perfect doggy door to install in the back entrance. After checking big-ticket items off your list, consider how moments such as bath time will change in the new dynamic. Choose a product that is stylish and functional, like the Peerless SideKick Shower System, which has interchangeable attachments for parents, pet and baby. Versatile shower additions create a one-stop shop for everyone in the family, limiting mess and making bath time more efficient (and cost-effective!).
Proof! Proof!
When you walk through your front door, you are greeted with the comfort and security of being in a space made just for you. With a new baby or pet, that could all change! It is important to take a careful look at your home and proof for all possible dangers and accidents. Move chemicals and cleaning products onto high shelves, tape electrical cords to baseboards, find ways to secure cabinets and doors that you would prefer not to have curious hands, mouths and noses digging around in, and make sure anything that can induce choking is stored in a safe place, far away from the curious new family member.
Budget for two
A new addition to the family means one more mouth to feed and nurture. It is important to prepare for unexpected expenses. Babies and pets are more prone to illness, injury and accidents because they are constantly exploring their environment. Remember to plan ahead by setting up a monthly savings plan to make room for miscellaneous expenses in your monthly budget. Go the extra mile and save more money by buying clothes and accessories from thrift or consignment stores, using family or friends for backup daycare, and asking relatives to babysit or puppy sit. Remember that planning is key. You've got this!
Playtime
Ensure a stress- and mess-free playtime by designating an area for play in your home. If possible, create a gated space to give yourself a sense of control over playtime activities. This will offer peace of mind and allow your new addition to have fun and express themselves without any inhibitions. Bonus: There is less cleanup time as well.
For more shower solutions for the family, please visit peerlessfaucet.com.
How to Inspire Summer Reading
How to Inspire Summer Reading
(Family Features) While summer is the perfect time for kids to take advantage of days spent away from the classroom, remember not to put valuable skills, like reading, on the backburner. In fact, research estimates that 1-2 months of learning loss can occur during the summer months.
To help your child maintain his or her reading level and avoid the "summer slide" - which can be counteracted in part by reading 20 minutes a day over the summer - Kate DiCamillo, a two-time Newbery Medal-winning author and the Pizza Hut BOOK IT! Program literary partner, recommends finding ways to make reading a fun, interactive experience that incorporates children's interests.
"Reading together is one of the best ways I know to foster a love of reading," DiCamillo said. "You can read to your child. Your child can read to you. You can listen to an audiobook together. You can both read the same book at the same time and discuss it when you are done. Reading is a way to connect to each other and the world."
Help your student maintain his or her skills and develop a love of reading this summer with these tips.
Love the Library
To help ensure learning doesn't stop once school lets out for summer, making periodic trips to the library part of your routine can be a good step. For many children, browsing the shelves on their own and discovering new books in a library can help them get excited about reading. Most libraries offer something for every reader, regardless of age or skill level, including a structured environment that can help make reading a priority.
Incorporate Interests
During the school year, many of the books your student is reading are probably assigned, but summer offers the opportunity for him or her to choose what to read and tailor selections toward specific hobbies or interests, which can increase enjoyment. Start by creating a list of books and activities that align with those interests, and take advantage of pre-built lists at libraries or online resources like those at bookitprogram.com/summer, which offers a variety of book suggestions and activities to help increase reading during the summer months.
Program Participation
Many schools, bookstores and libraries offer summer reading programs for students. Joining a program can provide a way to track your child's progress, and there are typically rewards involved for meeting certain criteria, which can provide a level of motivation that may otherwise be difficult to replicate.
Make Materials Matter
In addition to traditional books, summer reading can include materials of all lengths, from chapter books to short stories and even magazines or comic books. Even if you're committed to limiting screen time during the summer, consider a compromise that allows for the use of devices to read e-books or listen to an audiobook.
Read on the Road
One of the best ways to ensure your kids are reading is to make reading materials available to them, even when you're on the go during the busy summer months. Whether it's a long road trip or just a trip to the store, taking books - or playing audiobooks - in the car is a perfect opportunity to squeeze in some reading time.
Fostering the habit during the summer can help ensure your child is prepared when school - and the annual BOOK IT! Program - starts again. The program, available to kindergarten through sixth-grade students, helps motivate students to read by rewarding them with recognition and pizza. Learn more about the program and find more summer reading tips and activities at bookitprogram.com/summer.

Photo courtesy of Getty Images
#14207
Source: Pizza Hut
How Did You Find Us ?
In the Raleigh Kids Directory!
Best Brains Learning Center
Coming Soon!
Adorable & Affordable Kids' Clothes
Shop With Us
Welcome to the Raleigh Kids Directory. We simplify the search for families to connect with local businesses by including all area services in one full color publication. Our publication caters to educational resources, camps, sports, child related activities, pampering for mom, and dads, and family events.
Contact us for more information: (919)945-6135 or Ads@Raleighkidsdirectory.com
Coaches & Sports Directors:
Please submit your nominations for Athlete of the Month.
Qualified candidates will excel in sports, academics, character, and community service. Please forward names, digital pictures, and press release info to: Theraleighkidsdirectory@gmail.com
Empowering Kids to Help Kids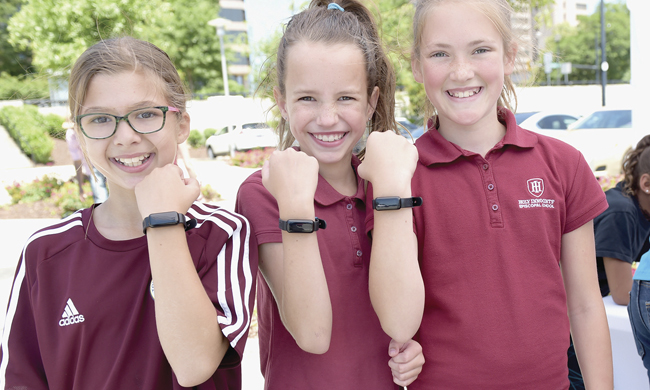 (Family Features) Some of the challenges of the 21st century demand solutions from a new generation of problem-solvers. Children can join forces to bring tangible change to the world around them, including helping to solve worldwide ailments like malnourishment.
In celebration of Kid Power Month in May, UNICEF USA is encouraging children and families around the country to get active and save lives by empowering kids from coast to coast to provide change in their communities.
With the UNICEF Kid Power program, children and their families around the United States can help end global malnutrition. In support of lifesaving nutrition work across the globe, the program gives kids the power to save lives by connecting their physical activity to social impact.
By using the UNICEF Kid Power Band or downloading the app, kids can use their near-boundless energy and inner power to run, jump and dance their way to unlocking funding from partners that UNICEF uses to deliver lifesaving nutrition to severely malnourished children. The more kids move, the more lives they can save. With this lifesaving impact, kids can become more aware of the world around them and become empowered to solve the challenges they face in their own communities.
With more than 10 million lifesaving Ready-to-Use Therapeutic Food packets unlocked to-date and over 70,000 lives saved since 2014, UNICEF Kid Power is empowering the next generation of global citizens. This May, you can become a global citizen, learn more about the program and help bring Kid Power's curriculum and local-global impact to even more students by visiting unicefkidpower.org.
SOURCE:
UNICEF
Thanks for stopping by the Raleigh Kids Directory