Fall in Love
with
The Raleigh Kids' Directory





#Raleighmoms #Raleigh #Kidmagazine #FamilyFun #ThingstodoinRaleigh #Cary #Apex #HollySprings #Durham #ChapelHill #WakeForest #Kids #NorthCarolina #Family
We are a full color publication serving the Raleigh/Durham area and surrounding counties. We specifically cater to locals and newcomers by delivering information on local businesses, news, and events.
#Raleigh #partyvenue #NorthRaleigh #Raleighmoms #Kidsparty #Triangle #RDUkids #Activitiesforkids #Partypackages #Raleighkidsdirectory #kidscafe
A Fresh Approach to the Winter Freeze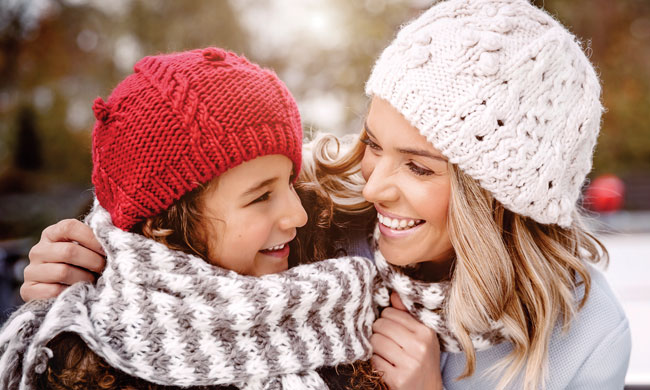 (Family Features) Winter means snowfall, cold days and time spent near a fireplace seeking warmth and comfort.
While planning for chilly days and frozen nights, it's important to prepare for the seasonal weather so you and your family can stay comfortable and warm.
Dodge cold drafts. According to the U.S. Department of Energy, drafts can waste 5-30 percent of energy use in your home. To help avoid energy loss, consider switching out lighter, airier summer curtains for heavier winter drapes. You can also add additional rugs around the house for extra insulation and to help prevent drafts in wood floors.
Freshen up sweaters and blankets. Sweaters and blankets are must-haves during the winter season for staying cozy indoors. To help keep them fresh, use a gentle and effective detergent that's easy on skin that can become dry during the winter season. For example, all free clear Odor Relief provides a powerful clean and attacks odors while being gentle for sensitive skin. Its hypoallergenic formula that's 100 percent free of perfumes and dyes keeps sweaters and blankets clean and fresh. For added convenience, try an option like all free clear mighty pacs, which are also gentle on skin, free of irritating residues and can be easily tossed in the washer when you need to do a quick load of laundry before heading out the door into the wintry weather.
Invest in a humidifier. Humidifiers can help keep your home warmer in cold winter months and also help eliminate dry indoor air that can irritate your skin. You can also easily move the humidifier around your home so that no matter which room you are in, you can stay comfortable all winter long.
Layer blankets and covers. While making beds, it's important to keep the right layering process in mind. Layer the thinnest and densest covers on top of lighter, fluffier blankets, which can help reduce heat that can escape, keeping you and your loved ones warm and snug throughout the winter months. Also be sure to opt for cozy blankets made from materials such as cotton or wool.
For more information on laundry detergent for sensitive winter skin, visit all-laundry.com.
Content courtesy of all®
Photo courtesy of Getty Images
SOURCE:
all
Another Beautiful Day in North Carolina
How Did You Find Us ?
In the Raleigh Kids Directory!
Shop With Us!
Adorable & Affordable Kids' Clothes
Thank You for Stopping by the Raleigh Kids Directory!
Science Made Magical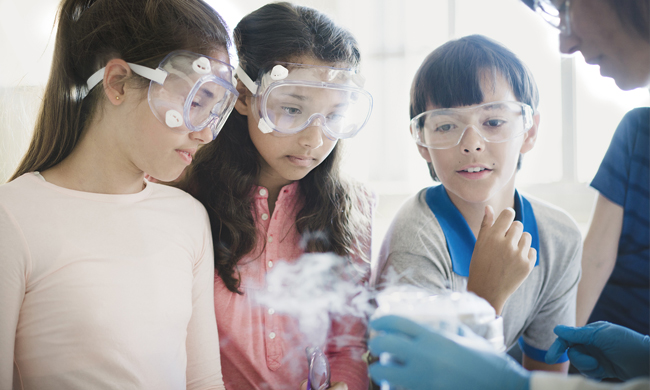 (Family Features) When you see something you can't explain, it can be easy to mistake those moments for magic, such as a balloon floating into the sky or water disappearing from a surface right before your eyes. However, the truth is these moments aren't magic but scienceat play. Observing the laws of physics or chemistry can, at first glance, seem too fantastical to be explained, but science can explain a lot.
These moments serving as creative ways to engage kids in science, technology, engineering and mathematics (STEM) learning may be one of the best tricks of them all. STEM touches many aspects of daily lives, and finding the connections between the classroom and the "magical" STEM moments of day-to-day life can inspire children and pique their interests in these topics.
Consider these simple tricks that help convey the "magic" of science:
Rubber Pencil
By holding an ordinary pencil by the eraser between your thumb and index finger then shaking it at just the right speed, it appears to become made of bendable rubber instead of wood. However, it's simply an optical illusion. The effect is due to visual persistence, which occurs when many different images blend into a single image in the human mind. This is the same reason people can see a rapid sequence of changing images and recognize it as a movie.
Vanishing Water
There is a popular magic trick in which a magician takes an ordinary looking cup, pours water into it and, after a series of gestures, appears to make the water disappear. The viewer is surprised when the cup is flipped over and no water drips out, as if it has vanished into thin air. The science and answer to this mystery is a substance called sodium polyacrylate. This is a "hygroscopic" substance, which means that it acts like a sponge and absorbs water almost instantly. When the cup is lined with this substance, any water that meets it forms a mixture that is a solid gel. Unassuming audiences think the water has suddenly disappeared, when in fact the mixture is simply stuck to the base of the cup.
Ventriloquism
The art of talking with the tongue and not moving the mouth or face is called ventriloquism. When a skilled ventriloquist does this sitting beside a puppet that has a moving mouth, the human brain is tricked into thinking the puppet has come to life and is speaking to the audience. It works because humans use their eyes to find sound sources. The area of the brain that processes sounds entering the ears also appears to process stimulus entering the eyes, providing a novel explanation for why many viewers believe ventriloquists have thrown their voices to the mouths of their puppets.
Knowing how the magic works doesn't necessarily make these tricks any less fun, and these simple tricks help teach children how STEM plays a role in everything, including fun and games. Another way to encourage children with STEM at an early age is encouraging them to participate in a program such as ExploraVision, the only STEM-related competition of its kind. It allows kids of all ages to create ideas for new technological innovations in response to current real-world issues. Participants work on their projects to supplement their science education, while also developing problem-solving, analytical and collaboration skills.
Parents and students can learn more about the competition and how to enter, and teachers can find free tips for engaging students, at exploravision.org.
Photo courtesy of Getty Images
SOURCE:
Toshiba
#Raleighmoms #Carymoms #NCmoms #Apexmoms #Raleighkids #Raleighkidsdirectory #Garner #HollySprings #ChapelHill #Durham #Wakeforest #Kids #Education
Stopping by Harris Teeter or Food Lion Today ?
Pick Up a Free Copy of The Raleigh Kids Directory
Promote Your Summer Camp in the Raleigh Kids' Directory
Contact us for details: Theraleighkidsdirectory@gmail.com
Giving for Good: Make an impact in your community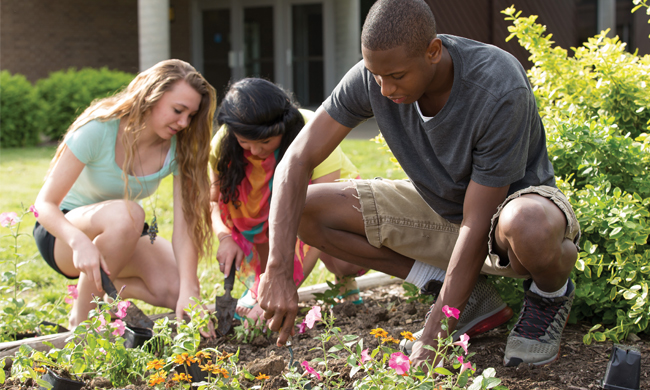 Make an impact in your community
(Family Features) Inspiration to give back to your community can come from any number of places, from a personal desire to make a difference to fulfilling a graduation requirement for community service hours. No matter the reason or the origin, chances are strong that you can make an impact.
Giving back may be as simple as writing a check to an organization that works to further a mission you care deeply about. Or it may mean lending a hand to put on a fundraising event in your community. Perhaps you have a skill or talent you can share with others in the name of a good cause.
If you're committed to contributing to your community in a meaningful way, consider one of these ideas to improve the lives of those around you:
Spend Time with the Elderly
Seniors often hold wisdom, knowledge and experience that younger generations have yet to accumulate. Yet, as they age, a community's oldest residents are often left alone. These days it's less common for family members to live near one another, so "adopting" an elderly resident down the street or at the local senior housing center is a way to help monitor his or her well-being and ensure personal ties to the community are maintained. Not only can this provide a valuable service for an elderly person and his or her family, it may bring you great personal satisfaction as you learn about the community's history through the eyes of someone who saw it evolve firsthand.
Donate to Nonprofits
If you're concerned your budget doesn't stretch far enough to make a meaningful cash contribution, there are plenty of other ways you can donate to nonprofit organizations in your community. Volunteer hours or even gently used items like office furniture or supplies are often in high demand. You can even donate by helping your favorite nonprofit uncover new funding opportunities. For example, the America's Farmers Grow Communities program, sponsored by the Monsanto Fund, provides farmers an opportunity to help a nonprofit of their choice. Eligible farmers can enroll in the program for a chance to direct a donation to a local eligible nonprofit organization. Since 2010, the program has shown a commitment to strengthening farming communities by awarding more than $29 million to nonprofits, supporting food banks, ag youth organizations, supplying essentials for the needy and acquiring life-saving emergency response equipment.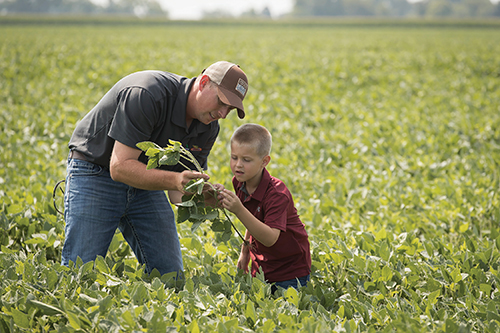 Be a Mentor
Much as you can gain valuable wisdom from elderly residents, you also likely have your own knowledge that can benefit others in your community. Consider the areas where you excel and explore how your community can benefit. You might put your athletic talents to use coaching a youth sports team, teach scouts a skill for advancement or lend your experience as a human resources professional to an organization that helps disadvantaged individuals improve their employment opportunities. If you're good with numbers, maybe volunteering as a financial advisor to a local nonprofit board is worth considering.
Help Create Future Leaders
If the future vitality and well-being of your community is a priority, your giving may involve creating opportunities for future generations. Programs like America's Farmers Grow Ag Leaders, sponsored by the Monsanto Fund, encourage rural youth to become the next generation of ag leaders by awarding scholarships to support their pursuit of higher education in ag-related fields of study. The scholarships are administered by the National FFA Organization, but students do not have to be FFA members to apply. Since 2014, the program has awarded more than $2 million in scholarships for students looking to study ag-related fields after high school.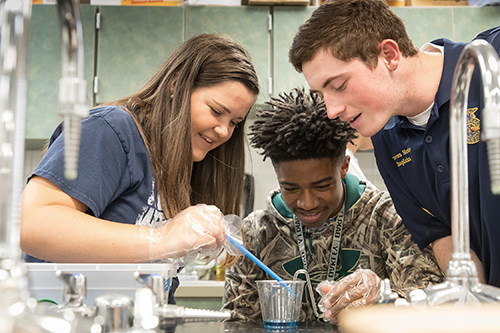 Plant Flower Beds
Making a community better isn't always about dollars and cents. Simply making your hometown a more enjoyable place to be is a reward you can enjoy along with your neighbors. Special beautification projects such as creating and maintaining flower beds in public spaces can help create a more welcoming, friendly environment. Other ideas include community cleanup initiatives and organizing groups to help with yardwork for those who are physically unable.
Get Involved in Schools
Nearly every school district can benefit from added resources to support youth education. You may be able to help your school secure funding for a special initiative through a program such as America's Farmers Grow Rural Education, sponsored by the Monsanto Fund, which allows farmers to nominate local public school districts to compete for merit-based STEM grants. Nominated schools have the opportunity to apply for a grant to fund projects that enhance science, technology, engineering and math education in their districts. Since 2011, more than $16 million has been awarded to over 900 rural school districts.
Farmers can find more ways to give back to their communities along with program information and official rules at AmericasFarmers.com.
SOURCE:
Monsanto Fund
Help Pets Ward Off Winter Risks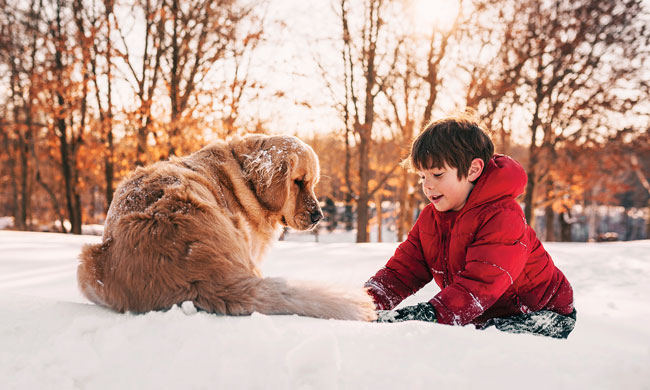 (Family Features) When temperatures drop, humans know to bundle up and avoid excess time outdoors. The same approach should be taken when it comes to pets. They may be covered by cozy fur coats, but not all of those coats are created equally.
"Hypothermia is a real danger for pets in the wintertime, and despite pets' natural fur coats, it doesn't take long for hypothermia to set in and cause serious problems," said Jennifer Freeman, DVM, PetSmart's resident veterinarian and pet care expert.
Freeman recommends keeping an eye out for the initial signs of hypothermia, such as skin that's cold to the touch, pale skin and gums, intense shivering and lethargy. In addition, she offers these tips to help protect your pet from a blustery winter:
Outdoor access: Limit walks in extreme cold weather and monitor your pet's behavior for signs of stress or discomfort. Never leave a pet outside during a winter storm. Do not let your dog off its leash after snowfall. Snow masks familiar scents and your pet may become lost and disoriented.
Chemical hazards: Snow-melting products like deicers, antifreeze and salt can cause skin irritations and, if ingested, can be fatal. If you live in an area where these products are used, it's important to thoroughly rinse your pet's paws and belly after a walk.
Adding extra layers: If your pet is small and short-haired, he or she is likely sensitive to the cold. The same goes for older pets and those that may be frail or ill. You can't take your pet's temperature by touching its nose, but a shivering body means he or she needs a sweater. Larger and long-haired pets can usually tolerate cold weather for longer periods of time, and even though you might bundle up, your pet has a long, thick coat prepared for long winter walks. Just remember paws get cold and sharp objects may be hiding under the powder - consider putting booties on your pet's paws for added comfort.
Skin-saving solutions: Many pets get dry skin during the winter season. When they do need a bath, try using a pet-friendly moisturizing shampoo to help keep their skin healthy and pH-balanced.
In addition, a pet emergency preparedness kit should be packed and contain the supplies needed to help keep your pet fed, warm and secure in the event of emergency conditions such as blizzards and extreme cold weather. Items like a sweater, insulated vest, paw booties or wax, pet-safe ice melt and a heated bed or pad can all help head off risks associated with cold weather.
Emergencies can also create circumstances for pets to become separated from their families. In addition to ensuring your pet is wearing a tag with your cell phone number along with microchipping and registering him or her with current contact information, also tuck a copy of your pet's vaccination and medical records, veterinary contact information and a current photo of your pet in your emergency kit.
Keeping your pet well-fed through an emergency also requires advanced planning. Store a one-week supply of food in a waterproof container, along with bottled water, portable bowls, a manual can opener (if your pet eats canned food) and a list of feeding routines and behavioral considerations in case someone else must take over care.
Also be sure to gather any other care items your pet may require, such as puppy pads, waste bags, litter box supplies and calming spray.
Find more advice for keeping your pet safe this winter at PetSmart.com.
Photo courtesy of Getty Images
SOURCE:
PetSmart
Kick Off the New Year with 8 Better-for-You Recipes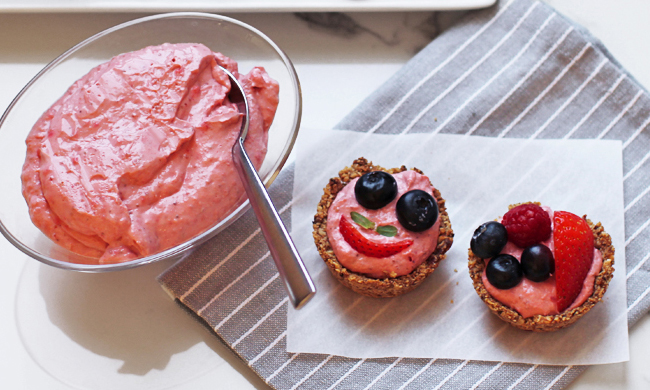 (Family Features) A commitment to eating better-for-you foods and living a healthier lifestyle in the new year doesn't need to break the bank.
To help achieve a more nutritious routine without blowing your budget, consider a one-stop shop like ALDI for high-quality, affordable ingredients to incorporate into better-for-you recipes. Plus, it carries the foods and ingredients to fit nearly any dietary lifestyle and budget – including a wide variety of options for plant-based, dairy-free and gluten-free diets.
Start the year with a clean slate and make practical, better-for-you eating goals with these recipes for main courses, sides, desserts and kid-friendly meals and snacks. Find more nutritious eating solutions and recipes at ALDI.us.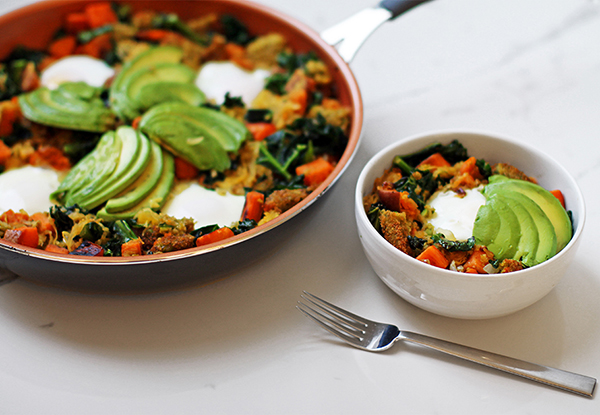 Harvest Breakfast Skillet – This hearty meal can be enjoyed any time of day. Combining fresh vegetables, eggs and sweet potatoes with diced quinoa crunch veggie burgers, this skillet puts a new spin on breakfast for dinner.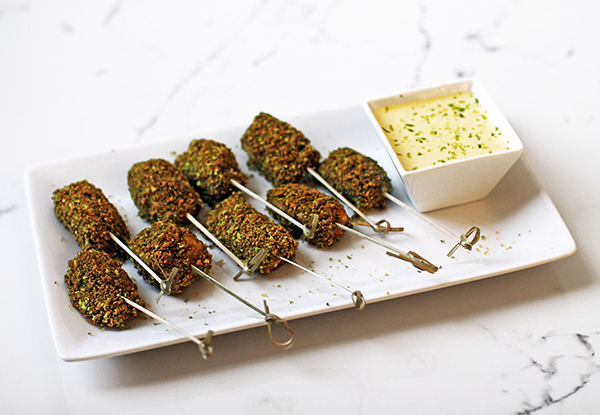 Crunchy Fish Bites – For a kid-friendly dish adults can enjoy as well, these crunchy fish bites feature breaded tilapia with a flavorful mustard-yogurt sauce that can win over nearly any crowd – including picky eaters.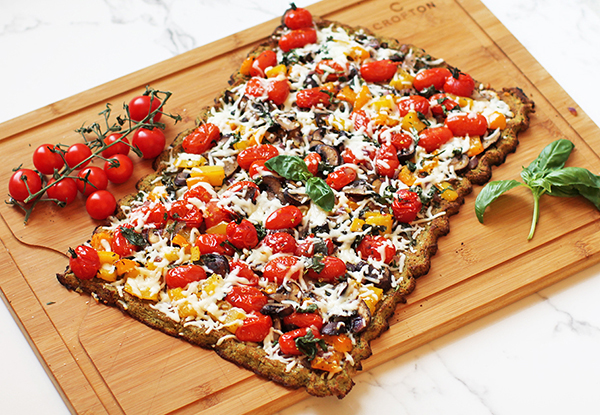 Cauliflower-Quinoa Pizza – With the right ingredients, even pizza can help you attain your health goals in the new year. To create a healthier pizza option the whole family can enjoy, swap out the standard crust for a cauliflower-based version to cut down on carbs without sacrificing flavor.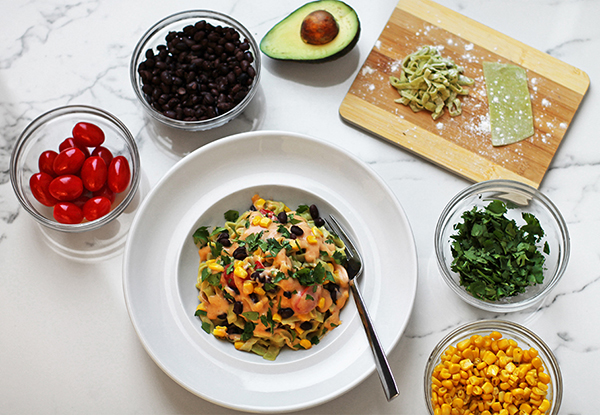 Fresh Avocado Pasta – This pasta requires just four ingredients along with an easy-to-make, creamy sauce perfect for the entire family to enjoy. Avocado lends a colorful hue to this kid-friendly main course.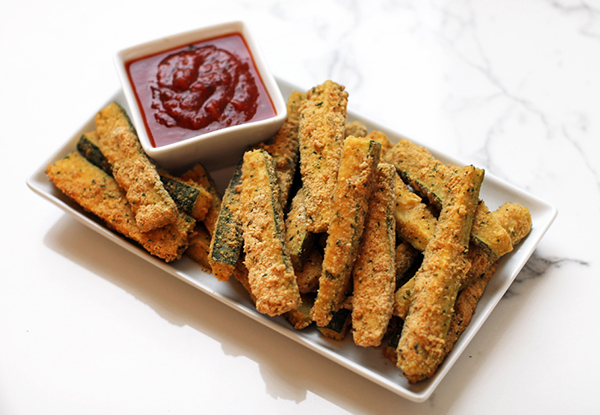 Oven-Baked Zucchini Fries – Skip the fried snacks and go for this better-for-you version of breaded veggies. A simple breading and just 15 minutes in the oven put a crunchy, guilt-free, crispy side dish on the table.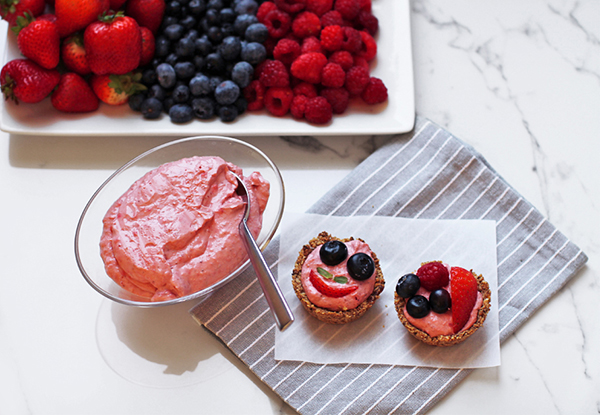 Soft-Baked Granola Cups – Topped with a dollop of strawberry yogurt and fresh berries, these granola cups are ideal for breakfast or as an after-school snack. They're perfect to make ahead of time – just store the premade cups in an airtight container and add toppings before serving. Fun tip: Let your child decorate his or her own cups.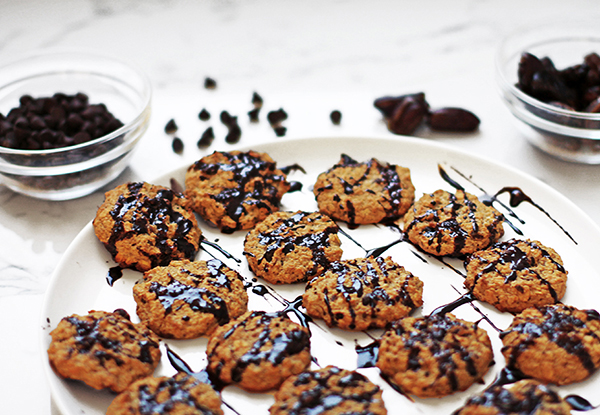 Cocoa Mocha Oatmeal Cookies – A mocha drizzle makes these oatmeal cookies stand out among healthier dessert options. After 15 minutes in the oven, you're left with a delightful treat that doesn't send your diet down the drain.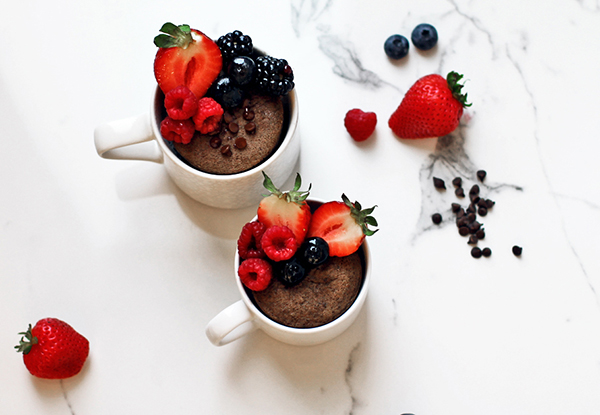 Chocolate Mug Cake – A better-for-you dessert, these miniature cakes made in mugs can be on the table in just 3 1/2 minutes. Simply combine a short list of ingredients, mix in your microwave-safe mug and pop it in the microwave for a quick, chocolaty snack.
Welcome to the Raleigh Kids Directory. We simplify the search for families to connect with local businesses by including all area services in one full color publication. Our publication caters to educational resources, camps, sports, child related activities, pampering for mom, and dads, and family events.
Contact us for more information: (919)945-6135 or TheRaleighkidsdirectory@gmail.com
Ready, Set, Go!
We have a Family Challenge for You:
Stroll Down
Clever Kitchen Upgrades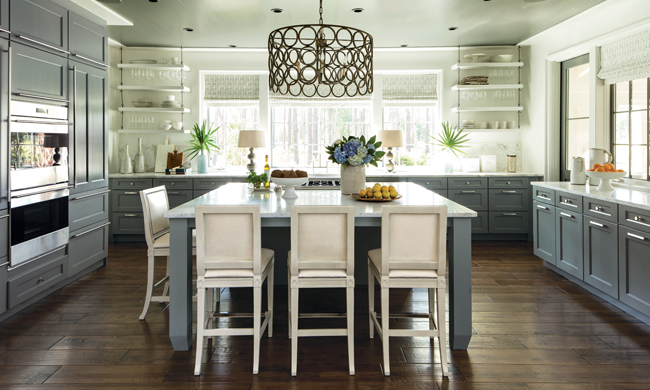 Fresh colors and textures for a functional kitchen style
(Family Features) For avid cooks, seasoned hosts and busy families, the kitchen is likely the center of daily life and a place where both form and function are of the utmost importance.
This high-traffic space generally influences the design of the rest of the house, especially if the home has more of an open-concept layout. The colors and materials used in the kitchen normally set the tone for the rest of the home.
When it comes to considerations like finish and materials, kitchen cabinetry trends are shifting toward colored cabinetry and a mixture of exposed textures and materials.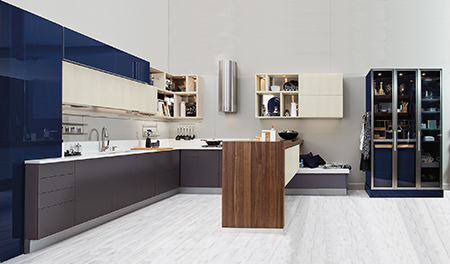 Colorful allure
White kitchen cabinets have dominated the market for years; white is constant, safe and classic. While white kitchens are likely to remain a popular option for homeowners, buying trends are showing a shift in painted cabinetry design from classic white to eye-catching colors.

Natural colors, burnt orange, shades of gray, blue hues and green tones are likely to be the leaders in painted cabinetry colors in 2019, and all are offered through an option like Wellborn's ColorInspire program.
For those with a visionary and creative approach to design, the blue tones for cabinetry reach atmospheric wisps of colors and capture the unique space between technology and spirituality. The unbridled adventurer may use burnt orange to soak in the blue of endless horizon and the subtle earthy colors of the high plains and desert.
For the naturalist, green earthy tones can bring the wonder of the world into your kitchen. For the cozy home-body, dark warm tones of gray on cabinetry add a rich and modern scope that spans space and time.
Trends in texture
From classic to modern and from farmhouse to high-tech modernistic styling, designers work to make surfaces make a statement. With cabinetry, there's no shortage of options: matte and glossy, dark and light, with and without handles.
Technology has played a major role in the improved quality of laminates in the kitchen; many of today's laminate options have a more realistic appearance and texture than their ancestors. For a more authentic wood look, an option like Wellborn Cabinet's Decorative Laminate Veneer Door Collection is filled with color choices in a range of materials spanning embossed and textured melamine, acrylic, laminates, metal and more.
Another option is cabinetry featuring timber with exposed grain for a balance between embracing nature and exuding sophistication. This trend celebrates imperfections and allows you to bring nature into your home. Defined or rustic woods are made from materials such as walnut, oak and cherry. For nature enthusiasts or those seeking the rustic farmhouse style, you can find beautiful organic finishes in Wellborn's Aspire Full Access Frameless line. The standout feature is heavy graining. Hand sanding, along with hand-rubbed finishes, provide a quality product with varied textures that minimizes the need for a lot of color.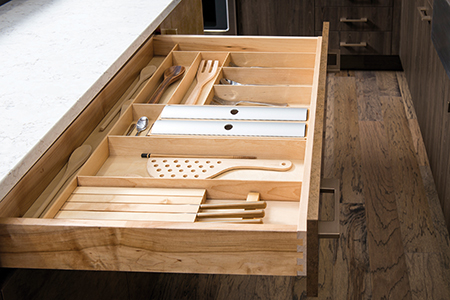 Focus on Function
A beautiful kitchen may please the eye, but when it comes down to it, a kitchen's function is its greatest value. Integrate these ideas for a kitchen that offers maximum function for one of your home's most-used spaces.
Declutter the countertops. Consider incorporating pull-out and roll-out trays into your cabinetry to maximize your storage space, as well as dressing your cabinets with appropriate inserts and organizational kits. Eliminate wasted space by adding corner cabinets to utilize all your available space.
In addition, an option like Wellborn Cabinet's Aspire Full Access Frameless cabinetry makes it simple to create diverse design styles with better storage options than traditional cabinet framing allows. Without a face frame on the front of the cabinet box, this style provides more room for storage and easier accessibility. You can create a modernistic kitchen, a rustic farmhouse kitchen or a nature-styled kitchen.
Determine the island's function. The island is often the visual centerpiece of the kitchen, but determining its function can maximize its benefit. Fully functional cabinetry around the island can provide added storage space. For example, custom cabinetry appliance panels let you not only conceal bulky appliances, they also give your wall cabinets more space and functionality.
Make recycling easy. Place the recycle and garbage bins in a drawer near the sink to allow for easier accessibility and keep them out of sight.
Explore more trendy looks for your new kitchen at Wellborn.com.
SOURCE:
Wellborn Cabinet
STEM at Play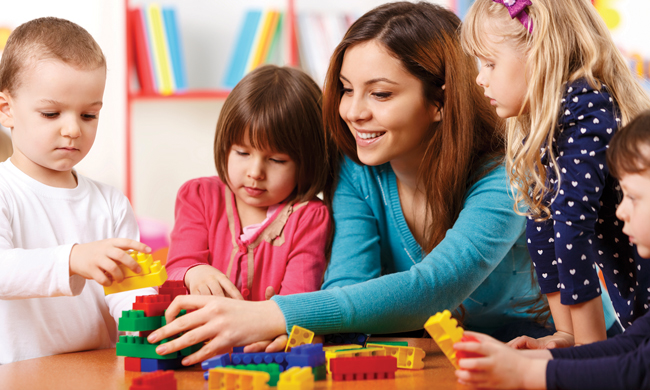 (Family Features) When children play, they often learn. Not only can playtime improve behavior and concentration, but it helps children explore with their imaginations. Both free play and adult-guided play allow kids to learn right from wrong, how to share and gain awareness of others' feelings.
Aside from neurological benefits, the power of play can also improve both long-term and short-term health. There's evidence that active children grow into active adults, thus decreasing their risk of heart disease and other scourges of sedentary lifestyles. Apart from these physical and emotional benefits, what some parents may not realize is that when playing, kids apply STEM (science, technology, engineering and math) principles, whether it's playing with blocks, building a fort or kicking a soccer ball with their friends, kids at play are "playing" with STEM.
While parents may feel they need to "introduce" their children to science, they've likely already started to understand it through everyday life and may even have a strong affinity for it. In fact, a report released by The Center for Childhood Creativity found kids are capable of developing complex STEM skills before they are even verbal. Knowing these skills are constantly developing, play time can be a fun way for parents to point out the science that makes things work.
Stacking up math and science skills. Plastic building blocks are a classic for a reason; they give kids the opportunity to build a dream home, a castle, a car – the list goes on. By asking your child to build a house, person or monster, you are simultaneously introducing him or her to concepts such as balance, pivots and other mathematical and scientific theories. Another fun lesson you can bring to the set is using building blocks to practice addition, subtraction and multiplication skills. For example, a 4-by-2 brick has eight studs on the top, while an 8-by-6 brick has 48 studs. Help your kids make the connection by using the blocks to teach them how to build a better sense of numbers.
Spring into action. Another classic toy that you may not have realized involves science is a metal spring toy. Generations of children have watched the bendable springs "walk" down the stairs in amazement. Challenge your child to explore and see at which angle the spring toy can "walk" the fastest. Make it even more fun by creating an obstacle course with books and other objects that may affect the trajectory to incorporate principles of physics and engineering. If your child is older, you can even use the toy to teach the basics of forces and waves by stretching it out then releasing it.
Having your children play with science doesn't have to involve test tubes and calculators; instead, you can harness the natural learning habits of your child. If you are looking for other ways to make learning fun, a program like ExploraVision can help. This K-12 STEM contest allows kids of all ages to create ideas for new technological innovations in response to real-world issues. Participants work on their projects to supplement their science education while also developing problem-solving, analytical and collaboration skills.
To learn more about the competition and how to enter, and for teachers to find free tips for engaging students, visit exploravision.org.
Photo courtesy of Getty Images
SOURCE:
Toshiba
Eight North Carolina Schools Earn National Blue Ribbon Honors
U.S. Secretary of Education Betsy DeVos has recognized eight North Carolina schools as National Blue Ribbon Schools for 2018. The recognition is based on a school's overall academic performance or progress in closing achievement gaps among student subgroups.
"I'm pleased to celebrate with you as your school is named a National Blue Ribbon School," said U.S. Secretary of Education Betsy DeVos in a video message to the honorees. "We recognize and honor your important work in preparing students for successful careers and meaningful lives. Congratulations on your students' accomplishments and for your extraordinary commitment to meeting their unique needs."
The coveted National Blue Ribbon Schools award affirms the hard work of educators, families and communities in creating safe and welcoming schools where students master challenging and engaging content.
State Superintendent Mark Johnson congratulated North Carolina's recipients as leaders for schools across the state in demonstrating effective teaching and learning aimed at helping all students achieve the American Dream.
"The teachers, other educators and parents in these schools should be proud of this recognition," Johnson said. "It's affirmation of all of their efforts to make the classroom experience as meaningful and productive as possible. Well done."
All schools are honored in one of two performance categories, based on all student scores, subgroup student scores and graduation rates:
Exemplary High Performing Schools are among their state's highest performing schools as measured by state assessments or nationally normed tests.
Exemplary Achievement Gap Closing Schools are among their state's highest performing schools in closing achievement gaps between a school's subgroups and all students over the past five years.
All eight of North Carolina's schools recognized this year for the Blue Ribbon designation were selected as Exemplary High Performing Schools.
North Carolina's Blue Ribbon Schools for 2018:
SCHOOL NAME /SCHOOL DISTRICT Clement Elementary School Sampson County School Eastover-Central Elementary School of Arts Cumberland County School, Glenn C. Marlow Elementary School Henderson County School Haywood Early College Haywood County School Kitty Hawk Elementary School Dare County School Socrates Academy Charter School; Matthews The STEM Early College at N.C. A&T Guilford County Schools W.J. Gurganus Elementary School Craven County Schools
Bringing Baby Home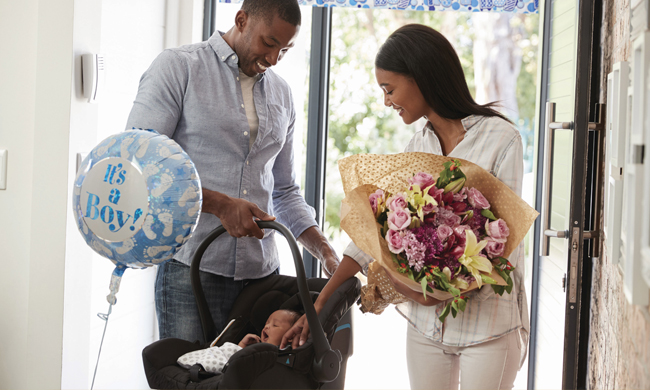 5 tips to prepare for a newborn's arrival
(Family Features) Bringing your baby home with you for the first time is typically one of the most exciting moments for a parent. However, preparing for baby's arrival can be a little overwhelming at times.
While there's no one-size-fits-all manual for becoming a parent, these tips can help ensure you're ready to bring your little one home.
Prepare the Nursery
Setting up the nursery can be the first real "I'm going to be a parent" moment, but it's also an important step to take before bringing your little one home. Pick a room in your home, clear it out and thoroughly clean every surface. Set up all necessary furniture, such as the crib, changing table, dresser and rocking chair or glider, then decorate the room as you see fit. Also, organize any other baby essentials you already have on-hand.
Baby-Proof the House
Before your baby arrives, it's easy to dismiss potential safety hazards around your home. Bringing a child into the space, however, exposes not only common safety pitfalls like stairs, electrical outlets, candles and cords but also easily accessible cabinets, heavy items not anchored to walls and sharp edges on tables, fireplaces and the like. Do a once over to install cabinet locks, foam edge coverings, outlet and door handle covers, safety gates and anchors. Once your child is mobile, it's a safe bet to re-walk your house for new potential dangers.
Pack a Hospital Bag
Your baby may arrive earlier than expected, so packing your baby hospital bag about a month before his or her expected arrival can help ensure you're ready to go at a moment's notice, just in case. Be sure to include copies of any necessary medical paperwork, clothing for both mom and baby – usually a few days' worth unless the hospital is in close proximity to your home – essential toiletries, electronics chargers and books or games to help pass the time in the hospital.
Ready the Car
To bring your baby home, you are required by law to have a properly installed car seat. Whether you opt for an infant-only seat or travel system or a convertible car seat that can be used as your child grows, setting the seat up in your vehicle ahead of time gives you the opportunity to understand how to safely and securely install it. While the hospital will check your seat before sending you on your way, many local fire and police departments offer free car seat safety inspections, as well.
Set Some Boundaries
While a new baby can cause quite the stir with family and friends vying for time to come visit, it's important to set some ground rules in advance of your arrival at home. Decide whether you are OK with visitors just dropping by or if you would prefer to create a schedule with specific dates and times for accommodating guests. Don't be afraid to limit the number of guests at first or to ask those who are sick to hold off on stopping by since newborns are more susceptible to illness.
Find more tips to prepare for your child's arrival at eLivingToday.com.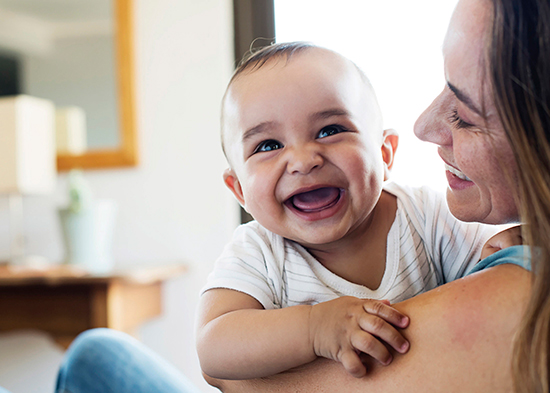 3 Tips For A Healthy Baby
When you're a new parent, once you've successfully navigated the first car ride home from the hospital and the euphoria of this new little life begins to fade, you're left with one resounding question: now what?
Over the years, you'll have many responsibilities as a parent, but your most important focus in those early days, weeks and months is your child's health and development, including his or her brain, gut and senses.
Brain
Numerous studies offer evidence that a child's learning abilities are developed during early childhood, meaning before even heading off to school. That doesn't mean you need to reach for the flash cards right away, though. Instead, focus on simply talking, singing and playing together. These activities can help develop vocabulary and other important cognitive functions.
Gut
When it comes to a baby's gut health, the first six months are critical because the immune system and metabolism are developing and being programmed for the future. Research published in "Cell" shows good gut bacteria during infancy, specifically Bifidobacterium, plays a critical role in establishing a healthy gut.
It's estimated, however, that nine out of 10 babies have low levels of Bifidobacterium, according to a study published in "mSphere." There is a way for parents to identify if their baby has low levels of Bifidobacterium, though, by asking three simple questions. If the answer is "yes," chances are your baby's Bifidobacterium levels are low.
Were you or your baby given antibiotics during pregnancy, childbirth or in the first six months after childbirth?
Were you or your baby born via C-section?
Does your baby have diaper rash or 5-plus loose, watery poops per day?
If you're concerned about your baby's gut health, talk with your pediatrician about an option like Evivo, the first and only baby probiotic clinically proven to restore the levels of B. infantis, a specific strain of Bifidobacterium, in a baby's gut and reduce bad gut bacteria linked to colic, eczema, allergies, diabetes and obesity by 80 percent.
Senses
Sensory cues are what allow your baby to take in information about surroundings. Exposing your baby to various sensory experiences funnels a wealth of information to help develop skills and better understand the visual, audible, olfactory and textural stimulants that he or she encounters.
Find more information and ideas for ways to improve your baby's health at evivo.com.
Photo courtesy of Getty Images (mom and dad bringing baby home)
SOURCE:
eLivingToday.com
Family Time is the Best Time
What Are Our Customers & Advertisers Saying:
Kid, You'll Move Mountains!
-Dr Seuss