Welcome Raleigh & Surrounding Areas to Your Family Resource Guide
School's Out/We're In!
We are a full -color publication serving the Raleigh/Durham area and surrounding counties. We specifically cater to locals and newcomers by delivering information on local businesses, news, and events.
Share Your Newborn Announcement with The Raleigh Kids Directory
Contact Us: Theraleighkidsdirectory@gmail.com
Workplace Tips and Strategies for New Parents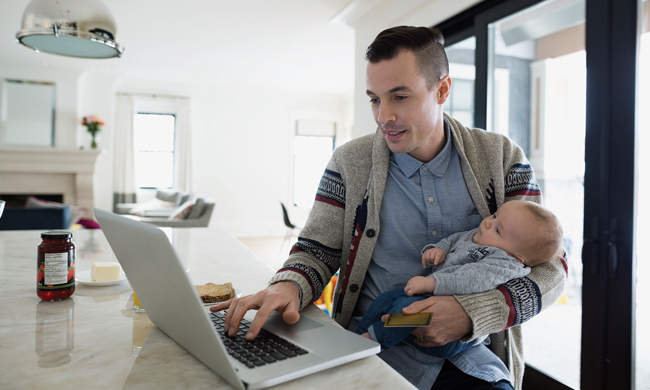 (Family Features) While having or adopting a child can be a rewarding and exciting time for new parents, many working moms and dads will tell you navigating the complex maze of employee benefits can be confusing. Between short-term disability insurance, Family Medical Leave, vacation, paid time off and state and municipal paid leave laws, the process can be anxiety-inducing.
To help alleviate stress, employee benefits company Unum recently conducted research among new parents who had a child or adopted in the previous five years. The findings pointed to a need for more communication between the new parents and their workplace human resources and management teams, both before and after leave.
Communicate early and develop a leave plan
Nearly half (49%) of new moms and more than a third (36%) of new dads surveyed did not meet with their manager or human resources department to discuss their leave benefits. Of those who did, 40% spent 30 minutes or less doing so.
"Most employers offer standard benefits for new parents including disability insurance (for birth moms) and Family Medical Leave, and we're finding more companies are adding additional perks like company-paid leave, flexible schedules and college savings accounts," said Angel Bennett, a director in the Leave Management Center at Unum. "It's important for expectant parents to meet with their managers and human resources to inform them, discuss available benefits and develop their leave plans well before the baby's arrival."
Nearly half (47%) of new birth moms said breastfeeding is one of their biggest challenges upon returning to the workplace. Mothers who plan on breastfeeding should discuss their options with human resources. Some companies offer lactation rooms, milk storage options and breast milk shipping services.
Things to discuss and consider after the baby arrives
Perhaps unsurprisingly, 48% of new parents are more tired, 35% are more stressed and 30% are more stressed about finances. However, some employers offer benefits that can help.
According to the Unum research, 60% of new mothers and 40% of new fathers struggled with depression or anxiety following the birth or adoption of their children. Many companies offer an employee assistance program, which can include a fixed number of counseling sessions or tele-behavioral health options, to help with life challenges.
Personal finance expert Laura Adams also suggests an open dialogue with your employer about financial protection benefits to help reduce anxiety during this potentially challenging time.
"Ensure your income is protected by reviewing your long-term disability insurance policy and that your family is taken care of with a life insurance policy," Adams said. "Also be sure to add the new child to your health care policy and, if available, consider signing up or increasing the amount you put into a flexible spending account."
To help new parents navigate these processes, "Bringing Up Baby: A Guide to Workplace Parental Leave Resources" contains basic tips, timing and conversation starters to engage with managers and human resources representatives. This guide, along with other employee and employer resources including a mental health report and caregiving report, can be found at unum.com/workwell.
Photo courtesy of Getty Images
SOURCE:
Unum
3721 Lynn Road, Suite 112, Raleigh, North Carolina 27613
Children's Amusement Center
How Did You Find Us ?
In the Raleigh Kids Directory!
5 Time-Saving Laundry Tips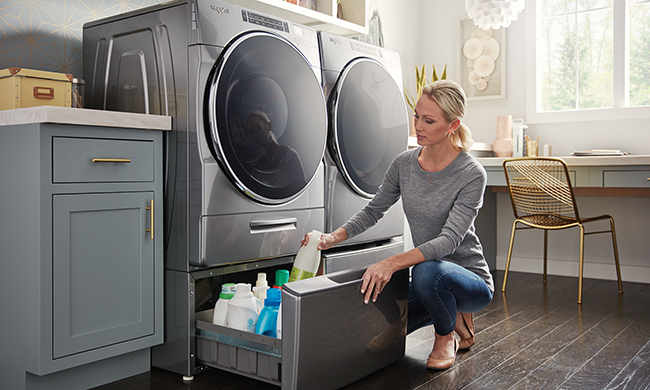 (Family Features) Between sorting, washing, pouring, transferring, drying and folding, laundry can often feel like a daunting chore.
While you can't skip laundry completely, you can stop those baskets from overflowing with these time-saving tips from the laundry experts at Whirlpool.
Sort clothes ahead of time. One way to make laundry more manageable is to sort as you go. Instead of tossing dirty clothes into a hamper, distribute items into separate bins. While the exact division depends on your wardrobe, you'll want to separate dark and light colors, as well as clothing that needs special care.
Pretreat stains. Once a stained garment makes its way through the dryer, chances are the stain is set for life. Protect your clothes by pretreating stains as soon as possible to help keep even the toughest stains from setting in. If you're unsure of how to treat a particular stain, such as spaghetti sauce or grass, Whirlpool offers a Stain Guide within its laundry app that provides helpful, step-by-step instructions*.
Keep your space organized. Just like it's hard to cook in a messy kitchen or work at a cluttered desk, you're less likely to be productive in a sloppy laundry room. Clean and organize your laundry area periodically so you have easy access to the supplies you need and a clean surface for folding fresh laundry or switching loads.
Take advantage of technology. New smart home technology is making laundry faster and easier, such as Whirlpool's Smart Front Load Laundry Pair with the Load & Go™ dispenser. This innovative feature allows you to skip a step in your laundry routine by eliminating the need to measure out and add detergent every time you start a load for up to 40 loads**.
Whether you are on the run or across the room, you can control your washer and dryer using an app on your smartphone or a compatible voice-enabled device for hands-free assistance. You can track how much time is left on your load while cooking dinner, assign washing settings while enjoying family movie night or begin a cycle when running errands. Touch-screen technology also guides you to the correct washer or dryer presets, or you can pre-program cycles of your own to tackle specific care settings for items like baby clothing or bulky comforters.
Finish with ease. For some, it's not the washing that makes laundry a drag, it's the folding. Hitting the tumble button to shake out wrinkles is one solution, but there are alternatives. Use your dryer's end-of-cycle buzzer as an easy way to keep track of when a load needs your attention or make folding a fun game with your family.
Find more information at whirlpool.com.
---
*Wi-Fi and app required. Features subject to change. Appliance must be set to Remote Enable for remote control capabilities. Details and privacy info at whirlpool.com/connect.
**Model WFW9620H. Based on an 8-pound load of laundry. The Load & Go™ dispenser capacity varies by model.
SOURCE:
Whirlpool
Science Made Magical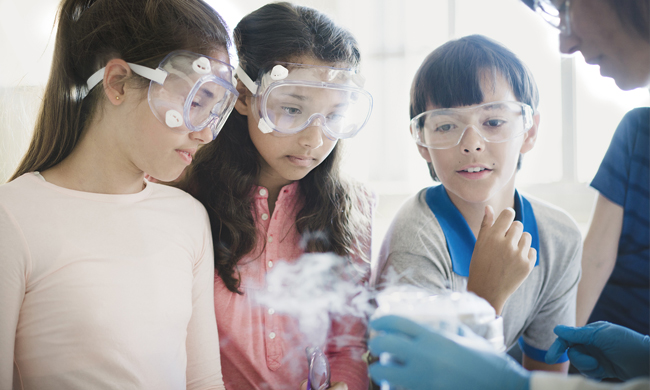 (Family Features) When you see something you can't explain, it can be easy to mistake those moments for magic, such as a balloon floating into the sky or water disappearing from a surface right before your eyes. However, the truth is these moments aren't magic but scienceat play. Observing the laws of physics or chemistry can, at first glance, seem too fantastical to be explained, but science can explain a lot.
These moments serving as creative ways to engage kids in science, technology, engineering and mathematics (STEM) learning may be one of the best tricks of them all. STEM touches many aspects of daily lives, and finding the connections between the classroom and the "magical" STEM moments of day-to-day life can inspire children and pique their interests in these topics.
Consider these simple tricks that help convey the "magic" of science:
Rubber Pencil
By holding an ordinary pencil by the eraser between your thumb and index finger then shaking it at just the right speed, it appears to become made of bendable rubber instead of wood. However, it's simply an optical illusion. The effect is due to visual persistence, which occurs when many different images blend into a single image in the human mind. This is the same reason people can see a rapid sequence of changing images and recognize it as a movie.
Vanishing Water
There is a popular magic trick in which a magician takes an ordinary looking cup, pours water into it and, after a series of gestures, appears to make the water disappear. The viewer is surprised when the cup is flipped over and no water drips out, as if it has vanished into thin air. The science and answer to this mystery is a substance called sodium polyacrylate. This is a "hygroscopic" substance, which means that it acts like a sponge and absorbs water almost instantly. When the cup is lined with this substance, any water that meets it forms a mixture that is a solid gel. Unassuming audiences think the water has suddenly disappeared, when in fact the mixture is simply stuck to the base of the cup.
Ventriloquism
The art of talking with the tongue and not moving the mouth or face is called ventriloquism. When a skilled ventriloquist does this sitting beside a puppet that has a moving mouth, the human brain is tricked into thinking the puppet has come to life and is speaking to the audience. It works because humans use their eyes to find sound sources. The area of the brain that processes sounds entering the ears also appears to process stimulus entering the eyes, providing a novel explanation for why many viewers believe ventriloquists have thrown their voices to the mouths of their puppets.
Knowing how the magic works doesn't necessarily make these tricks any less fun, and these simple tricks help teach children how STEM plays a role in everything, including fun and games. Another way to encourage children with STEM at an early age is encouraging them to participate in a program such as ExploraVision, the only STEM-related competition of its kind. It allows kids of all ages to create ideas for new technological innovations in response to current real-world issues. Participants work on their projects to supplement their science education, while also developing problem-solving, analytical and collaboration skills.
Parents and students can learn more about the competition and how to enter, and teachers can find free tips for engaging students, at exploravision.org.
Photo courtesy of Getty Images
SOURCE:
Toshiba
HASHTAG
#GreatArticles #SummerCamps #AfterSchoolPrograms #Raleigh #Raleighkids #CaryLearningCenters #ApexLearningCenter #CodingCary #CodingMorrisville #NCStateCamps #Blog #NorthRaleigh #NorthHills #Garner #GarnerKarting #HollySprings #Rolesvillekids #WakeForestkids #Durham
Stopping by Harris Teeter or Food Lion Today ?
Pick Up a Free Copy of The Raleigh Kids Directory
Special thanks to Pixabay for allowing us to share your amazing work.
Baby & Toddler Fashions
Coming Soon!
Shop With Us Online
Thank You for Stopping by The Raleigh Kids Directory
Come Back & See Us Again!
Welcome to the Raleigh Kids Directory. We simplify the search for families to connect with local businesses by including all area services in one full color publication. Our publication caters to educational resources, camps, sports, child related activities, pampering for mom, and dads, and family events.
Contact us for more information: (919)945-6135 or TheRaleighkidsdirectory@gmail.com
KID YOU'LL MOVE MOUNTAINS
-DR SEUSS
Why Dads Should Get Involved in Playtime
Why Dads Should Get Involved in Playtime
(StatePoint) Experts say that it's just as important for dads to provide emotional comfort to their kids as moms, and that playing is one of the best ways for dads to serve as role models and strengthen bonds. It all starts with finding the time.
"There are so many distractions taking us away from playing with our kids -- from technology to work commitments to household chores," says Dr. Erik Fisher, psychologist and expert contributor to TheGeniusofPlay.org. "But unstructured play is crucial. No matter what the age, kids learn valuable lessons from this time spent together."
What's more, studies suggest that playtime with dads may also be beneficial to children's health. Those families where fathers had increased involvement with childcare -- particularly with such physical tasks as playing with kids, taking them for walks outside, bathing or dressing them -- experienced a decreased likelihood of childhood obesity from age 2 to 4, according to a 2017 study published in the research journal "Obesity."
The good news is that incorporating play into your family schedule does not need to be a daunting task. Check out these fun ideas for dads from The Genius of Play, a national movement providing families with information, inspiration and hands-on ideas to make play an important part of their child's day.
• Quicksand: Lay two even trails of pillows on the floor. These are the "stepping stones" players need to land on to avoid falling into the quicksand! The pillows should be at least a foot apart from each other. Take turns jumping from stepping stone to stepping stone. Anyone who touches the floor must start from the beginning. Whoever makes it to the end first wins!
• Dolls: Experts say that it's important for fathers to play with their kids in gentle ways beyond roughhousing. Not all dads played with dolls as children, but this is an example of play that offers an opportunity to teach children about love, as well as model healthy emotions and desirable social behaviors.
• Scavenger Hunt: Write a list of items kids should look for and see how many of those things they find. Indoor objects can be a book, a blue sock, etc.; outdoor objects can be a green leaf, a rock, a feather, etc.
• Building Together: Whether you use simple blocks to create a tower or interlocking pieces to form a race track or maze, construction toys offer opportunities to collaborate and problem solve together, while helping the child develop spatial reasoning and explore science concepts like gravity.
• Homemade Map: Before setting off on a trip, talk with your kids about where the family is headed. Together, draw a map, including your starting point, destination, and major stops and landmarks along your route, complete with illustrations.
For more play ideas, expert advice and other play resources, visit TheGeniusOfPlay.org.
Playtime is beneficial for healthy child development. From spontaneous games of catch to hands-on arts and crafts, there are many ways that dads can, and should, get in on the fun.
Pushing for a Strong Start for Babies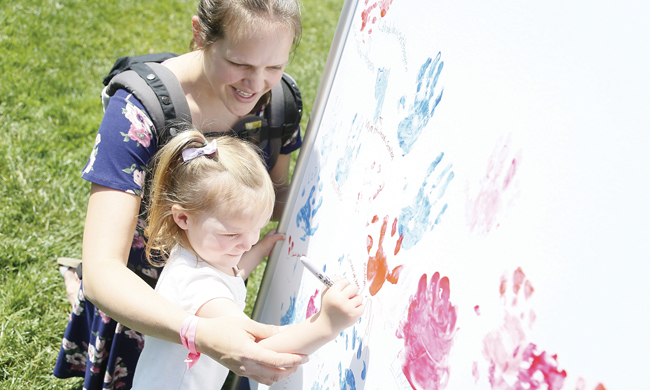 (Family Features) More than 10,000 babies are born each day in the United States. Where they are born and where they live during the first years of their lives can make a difference in their chances for strong starts.
Science shows that human brains grow faster between the ages of 0-3 than at any later point in people's lives, forming more than one million neural connections every second. Nurturing relationships, early learning experiences and good health and nutrition influence all areas of a child's development, setting a strong foundation for the rest of his or her life.
According to the "State of Babies Yearbook: 2019," published by Zero To Three, an early childhood development nonprofit organization, babies in many states face persistent hardships that undermine their ability to grow and thrive, such as staggering child care costs and lack of comprehensive paid family and medical leave.
"Families are struggling every day, in every state, and we are urging our leaders to act," said Myra Jones-Taylor, chief policy officer of Zero To Three. "Most of our investments in early childhood start too late, at age 4 or older. By that time, some of the most important years of brain development have passed. Today's babies become tomorrow's workers, parents and leaders. Now is the time for policymakers on both sides of the aisle to make every baby a priority through policies built on the science of brain development and budgets that put babies and families first."
To help ensure a brighter future for all babies, the organization is working with Congress through events like "Strolling Thunder" to help drive support for policies and programs that prioritize the needs of babies, toddlers and their families. Its policy agenda includes establishing a comprehensive national paid leave program that provides adequate time off to care for newborns or newly adopted children, and allows families to take leave if their child or another family member is experiencing a serious illness; expanding access to quality, affordable child care by increasing investments in the child care system while also working toward a comprehensive, long-term solution for working families; and increasing investments in programs that support babies' healthy development, such as Early Head Start, and infant and early childhood mental health.
"As a director of an early childhood education program, I can speak firsthand to the struggle associated with providing high-quality care and education programs for young children while balancing that against what parents can reasonably afford to pay for child care," said Jessica Carter, a "Strolling Thunder" parent from North Carolina. "As a mother of two, I can also speak firsthand to the fact that if I did not receive discounted tuition at my center, I would not be able to afford child care costs and would be forced to stay at home with my children. As a result, our family would not have affordable access to health care. Further, our children would not benefit from the social and educational benefits they receive in a group care setting."
In order to help make babies a national priority, consider letting your policymakers know you care about the policies and programs babies need for strong starts to their lives, and join the team that's fighting for their futures at thinkbabies.org/strollingthunder.
SOURCE:
Zero To Three
Want to Increase Your Business?
List it Here!
Contact Us for Details: Theraleighkidsdirectory@gmail.com
Pet Nutrition 101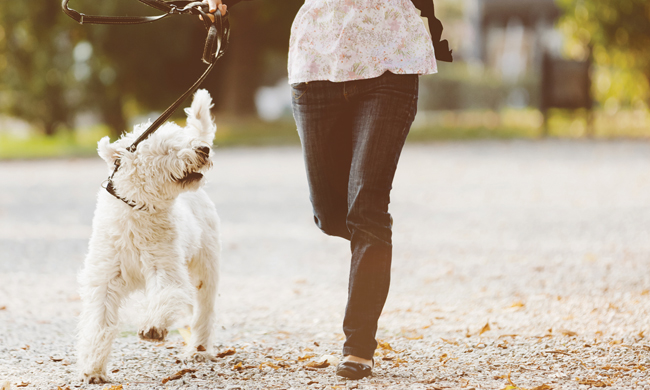 5 tips to avoid pet obesity
(Family Features) With an estimated 60 percent of cats and 56 percent of dogs in the United States considered overweight or obese, according to the Association for Pet Obesity Prevention, maintaining adequate nutrition throughout a pet's life is a major part of a pet owner's duties. While it may seem like a simple task, some pet parents struggle to find the balance between proper nutrition and adequate exercise.
To help put your pup or cat on the road to healthy living, consider these tips from Dr. Jennifer Freeman, PetSmart's resident veterinarian and pet care expert:
Choose the Right Food
Understanding what's in your pet's food can help you put into context the type of nutrition your dog or cat is or isn't consuming. Start by reading the ingredients on the food label and pay special attention to the first three ingredients; take note that they're typically listed in descending order, meaning the major make-up of the food is listed first. While each animal has its own unique nutritional needs, make sure your pet consumes an adequate amount of protein.
Avoid Table Scraps
One of the first and easiest steps you can take in improving pet nutrition is to avoid feeding table scraps, including cooked bones from poultry, pork and other meals as they can be potentially dangerous to an animal's digestive tract. Additionally, they can sometimes splinter into shards and cause choking or damage to the esophagus and intestines.
Mix Up the Everyday Meal
To reward your pet for good behavior, an option like Simply Nourish meal toppers, made for both dogs and cats, can be served as a tasty and nutritious complement to regular food. In addition, based on an individual pet's needs, extra fiber or flavor enhancers might be warranted. Pumpkin puree is a source of fiber that can help with digestion and weight management in pets. If your pet has diarrhea or constipation, or your veterinarian recommends your pet lose a few pounds, try adding pumpkin to its diet.
Practice Healthy Portion Control
Keep in mind your pet's weight and breed when considering the proper amount of food to provide and consider speaking with your veterinarian to help ensure you're not overfeeding. Treats can be a good way to reward proper behavior and display affection, but too many tasty morsels can lead to numerous health issues, including obesity, arthritis and diabetes in overweight cats.
Exercise Regularly
All pets need exercise, but consider age, breed and current state of health when determining the extent. Most dogs require at least 30 minutes of exercise each day, achieved through entertaining and interactive physical activities like walking, running, playing fetch and more. Freeman recommends shorter spurts of exercise for cats, such as 2-3 play periods around 5 minutes long. In addition to the positive physical benefits of proper exercise, these types of activities can also help keep your pet from becoming bored, potentially reducing the temptation for undesirable behaviors.
To find more information on pet nutritional needs and food options, visit petsmart.com .
Photo courtesy of Getty Images
SOURCE:
PetSmart
What Are Our Customers & Advertisers Saying:
5 Ways to Get Kids Excited About STEM Learning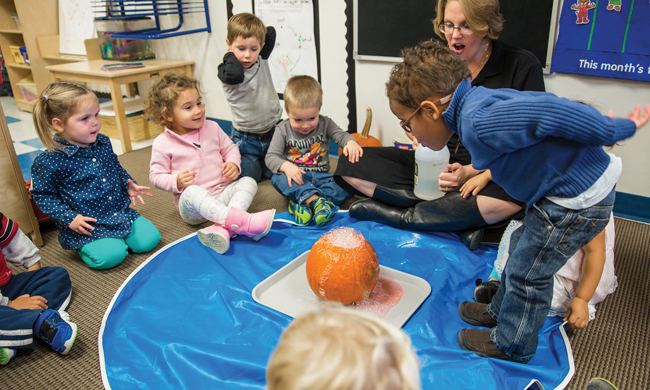 (Family Features) Many of the growing problems around the world, from famines and food insecurity to climate change and profound poverty, need the contributions of brilliant scientists, engineers, mathematicians and technologists. Encouraging children to explore skills and careers in science, technology, engineering and math (STEM) can help build a better future.
Whether a child pursues a formal career in STEM or just gains the background in related skills, that experience and perspective can be important in stimulating change. Unlock the potential in your child with these tips from the learning experts at KinderCare:
Recognize people who advance STEM. When reading a book or watching a show featuring characters in STEM careers, such as doctors, mechanics or computer engineers, talk with your child about the characteristics those characters have in common, like a sense of curiosity or a willingness to try an idea that may or may not work. Taking time to point out any family members or friends with similar jobs or hobbies can help your child picture himself or herself in STEM-related roles.
Identify outside-the-box places STEM lives. Technology, for example, can be used to conduct research, draw or create music – things that don't always occur in laboratories, research centers or tech companies. Using technology to pursue other interests can open new possibilities for children to channel their interests into STEM careers. To build on any specific interests, such as robotics, the ocean or the universe, find activities in your area you can do with your child. For example, encourage your child to ask the zookeepers about certain animals he or she is interested in or research the lifecycle of a tree before taking a family camping trip.
Focus on the process to instill confidence. Kids should understand failure is OK, so they're more open to try something new and step outside their comfort zones. Encourage your child to explore his or her passions and interests more in-depth. Try to compliment desired behaviors, such as hard work, perseverance, grit and learning from mistakes, to teach your child success doesn't come from always being right.
Emphasize STEM-related skills. Curiosity, observation, problem-solving, critical thinking, collaboration, creativity and communication are crucial in nearly all STEM-focused careers. By asking questions like "why?," "how?" and "what if?," and giving children the opportunity to explain the world around them instead of simply providing the answers, you can help spark curiosity and set the foundation for the development of more advanced skills.
Don't limit your child to gender stereotypes. Ensure your children know they have the ability to do and try things that capture their attention and align with their passions. Try to refrain from identifying certain toys or games as things that are just for boys or girls. All children should be allowed to play with and explore trucks, dolls, dinosaurs, kitchen sets and tool boxes. Try to avoid setting boundaries that could unintentionally channel a child in a different direction, and make sure your child understands the vast possibilities his or her future holds.
Find more learning resources to help create a better future at KinderCare.com.
SOURCE:
KinderCare
Raleigh Kids' Directory Kid Life