Welcome Raleigh & Surrounding Areas to Your Family Resource Guide
We are a full -color publication serving the Raleigh/Durham area and surrounding counties. We specifically cater to locals and newcomers by delivering information on local businesses, news, and events.
Eco-Friendly Ways to Keep Your Home Cool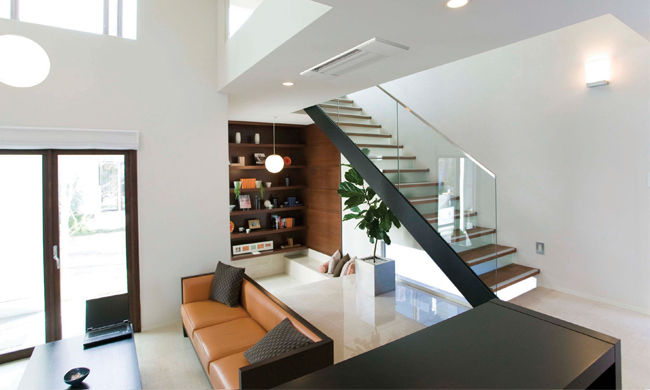 (Family Features)When it's hot outside, heat can seep into your home and make it unbearable. However, there are sustainable, eco-friendly solutions to maximize comfort and cooling when the thermometer creeps upward without racking up an outrageous electric bill or large carbon footprint.
While some options for keeping your home cool involve an upfront investment, over time they'll save money, and the environment, for years to come. If you're looking for ways to cool your home during even the hottest days, consider these ideas from the experts at Mitsubishi Electric Cooling & Heating.
Adjust Ceiling Fans
Installing ceiling fans in your home can help keep temperatures moderate and cut down on your cooling bill. For best results, those ceiling fans should be adjusted seasonally. During warm weather months, fans should rotate counterclockwise at a higher speed to push air downward instead of up toward the ceiling, which can lead to a more comfortable temperature in your home.
Upgrade Your Air Conditioner
If your home's climate control is lacking, it may be time to invest in a new HVAC system - particularly if your current one is more than 15 years old. An energy-efficient option like Mitsubishi Electric's sleek and modern MLZ One-Way Ceiling Cassette is designed for easy installation and saves energy by monitoring room conditions to make automatic adjustments to maintain the temperature you choose. To improve your indoor air quality, the MLZ uses reusable air filters, which are easy to remove, wash and reinstall. In Dry mode, the unit makes the air feel fresher by removing excess moisture.
Additionally, these ceiling cassettes can be programmed to operate around your life using a remote control, smartphone or tablet. Whether gone for the day or on an extended vacation, you can monitor your system from an app, ensuring you won't return to a home that's blazing hot.
Reduce Incoming Sunlight During the Day
Direct sunlight coming into your home through windows, doors or skylights can increase the temperature. To help reduce unwanted heat as the sun rises higher during the day, consider closing your blinds or installing light-colored blinds that reflect rather than absorb the sun's heat. Other options such as blackout curtains or reflective window panels can have the same effect, helping reduce warmth trapped inside.
If closing all your blinds or covering every window isn't an option or makes you feel claustrophobic, focus on any south- or west-facing rooms in your home, as these are typically the trickiest to keep cool during the warmest hours of the day - usually from late morning until early evening. Exterior window shades and awnings can also be useful options if you're looking to reduce the amount of heat that enters your home, but still want to take advantage of the natural light.
Change Your Light Bulbs
Since warmer weather also equates to more sunshine, turning off the incandescent lights in your house when possible can cut down on extra heat and save on your energy bill. Though the soft yellow glow of incandescent light bulbs can create a nice ambiance, it also gives off a lot of heat. Swapping out those old light bulbs for more efficient, LED bulbs can cut down on the amount of heat your light fixtures emit. If you can't replace them, minimizing their usage - particularly when having a light on in a room is unnecessary - can make a difference.
Strategically Plant Trees and Shrubs
Planting trees or shrubs near sunlight-facing windows can make a big difference when it comes to the temperature inside your home by shielding the sun's rays. While planting trees strategically around your home is more of a long-term plan, the benefits can also last for many years to come in terms of shade, added curb appeal and overall betterment of the earth.
Start by focusing on west-facing walls, where the sun is typically the strongest. Choosing trees native to your area can decrease maintenance, and those that bloom in spring and drop leaves in the fall offer year-round benefits by providing both shade and heat in accordance with the season. Vines and other tall shrubs are options for quicker results, but they may also require more long-term maintenance.
Reduce Appliance Usage
To help minimize running appliances and equipment that generate a lot of heat, like stoves and ovens, choose to cook outdoors or opt for quicker meals you can prepare using the microwave, which doesn't heat the house to the same extent. While grilling and eating outside more frequently may require an awning or gazebo to stay cooler, it can beat the alternative of warming up your oven, and ultimately your home, for an extended period of time.
Reducing your usage of other heat-producing appliances such as computers, dishwashers, clothes dryers, curling irons and hair dryers can also help keep interior temperatures comfortable and energy use low. Try using these appliances earlier in the day to minimize the extra load placed on your air conditioner.
Keeping cool during warm weather months doesn't have to be complicated. Take advantage of these measures to reduce your home's heat load and energy bill. Find more tips for cooling your home at mitsubishicomfort.com.

SOURCE:
Mitsubishi Electric Cooling & Heating
Share Your Newborn Announcement with The Raleigh Kids Directory
Contact Us: Theraleighkidsdirectory@gmail.com
Tips for Maintaining an Organized Home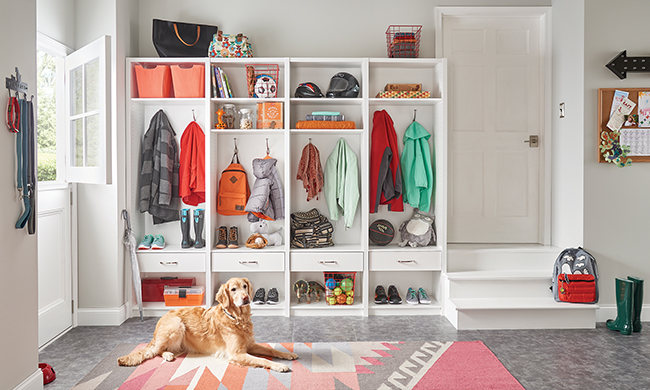 (Family Features) This time of year, family life can get a little messy. School schedules and sports activities mix with work commitments, and before long the house is as cluttered as the calendar.
Fall is the perfect time of year to recommit to an organized household so you can keep the chaos contained. With these tips, you can make small changes to help you get organized and stay that way.
Embrace routines. The idea of dedicating large chunks of time to organizing and tidying the house can be overwhelming. However, making time to clean as you progress through the day can help control clutter and keep the time commitment more manageable. Commit to cleaning up the kitchen after dinner each night. Set expectations for kids to pick up their rooms before bed. Before long, routines become productive habits that make a visible difference.
Purge the excess. Over time, nearly everyone collects too much stuff, and clutter is often more an indication of too much volume than poor organization. Items are purchased to replace outdated things, but the old pieces sometimes don't actually get discarded. Getting control of your clutter starts with eliminating the things you no longer want or need. A good strategy is to create piles of items: keep, sell, donate and discard.
Create a drop zone. In most homes, the entryway is a catchall for family belongings that get shed with each pass through the door. It's convenient to have shoes, coats, backpacks and other essentials ready to grab as you head out, so instead of fighting the inevitable jumble, find a way to organize it. A stylish drop zone using ClosetMaid's Space Creations organizers is a solution that attractively contains all those essentials. The line includes a range shelving kits, complementing drawers, baskets, rods and more so you can customize the storage unit to your exact space and needs.
Avoid junk piles. Nearly every home has at least one junk pile, drawer or even room. In most cases, the reason is that the contents are a mish-mash of items that don't really have any place else to go. Make a point to identify ways to create order, whether it's adding drawer inserts to contain all the odds and ends or buying a standing file to capture bills and mail.
Be mindful about use. When you're on a mission to eliminate excess clutter, it can be tempting to go overboard putting things away. It's important to be realistic about where you store the things you need and err on the side of keeping the things you use regularly within reach. This may mean getting creative about how you organize or even adding new storage containers or furniture, but remember being organized is only helpful if it's also practical.
Find more ideas for better home organization this busy season at ClosetMaid.com.

SOURCE:
ClosetMaid
How to Plan for Traveling with Kids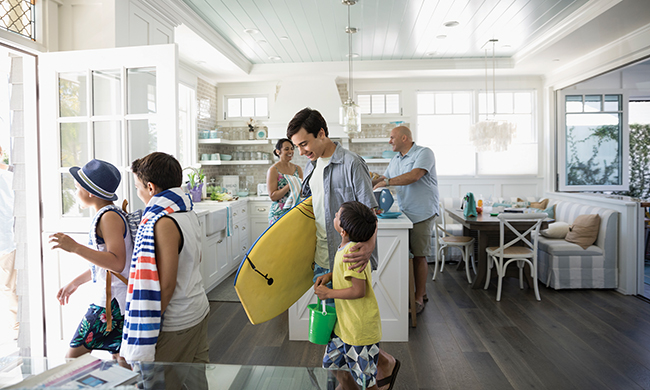 (Family Features) Families that travel with kids typically know tablets and other gadgets and activities can make the journey easier, and vacation rentals can make the stay more relaxing and affordable.
These tips from the experts at Vrbo can help make it easier to hit the road with kids, whether it's exploring exciting new places, visiting relatives or relaxing during an annual trip to the beach.
Start packing early. Begin a week or two before the trip by helping kids write a list of what to take. It can help build excitement and avoid last-minute fusses over how many toys and favorite pajamas go in the suitcase. If there's a long journey ahead, consider temporarily lifting limits on tablet screen time and bring along a couple travel surprises like coloring books.
Don't overpack. Since many vacation rentals come with washers and dryers there's no need to pack two outfits per day per child plus backups in case of spills. If the place your group is staying has a laundry room, pack enough clothing for half the trip then throw a load in the wash after a few days. Pack some detergent pods in a plastic bag in case it's not provided.
Pack snacks. Travel often messes with mealtimes, but you can keep hunger (and the crankiness that comes with it) at bay with portable snacks. Pack a selection of treats to tide over hungry bellies until you're able to stop for a complete meal. Include a few items typically reserved for special occasions so you have the added benefit of excitement to distract from an unfamiliar eating schedule.
Bring favorite toys. A sentimental and familiar item from home can help a child feel more secure in new surroundings. In fact, a survey from Vrbo revealed just how popular teddy travel is, with more than half of those surveyed (55%) citing stuffed animals as the most important thing their child brings on vacation.
However, 69% of those surveyed said their child has left a toy or stuffed animal behind while away from home. In the event a toy does get left behind, look into resources like Vrbo's Teddy Bear Service. Any traveler staying in one of the company's vacation rental homes can call 1-774-VRBOTDY or email TeddyBearHotline@vrbo.com to report a lost teddy bear or other item of sentimental value, and the company will help track it down and expedite its return home.
Plan for nap time. Whether you're racing to put miles behind you or scurrying to catch a connecting flight, it's easy to get off track and miss nap time completely. If you're likely to miss a nap, try to at least plan for some quiet time to let kids rest and rejuvenate. Also remember that travel can be tiring for kids who have outgrown naps on a regular basis and encourage them to grab some shut-eye before signs of exhaustion emerge.
Find more traveling tips and information at vrbo.com.
Photo courtesy of Getty Images
SOURCE:
Vrbo
How Did You Find Us ?
In the Raleigh Kids Directory!
5 Time-Saving Laundry Tips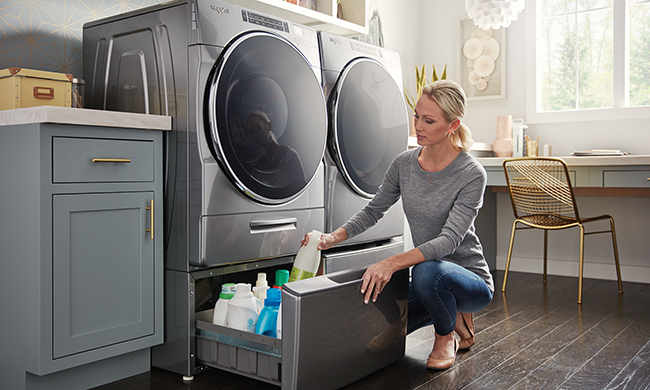 (Family Features) Between sorting, washing, pouring, transferring, drying and folding, laundry can often feel like a daunting chore.
While you can't skip laundry completely, you can stop those baskets from overflowing with these time-saving tips from the laundry experts at Whirlpool.
Sort clothes ahead of time. One way to make laundry more manageable is to sort as you go. Instead of tossing dirty clothes into a hamper, distribute items into separate bins. While the exact division depends on your wardrobe, you'll want to separate dark and light colors, as well as clothing that needs special care.
Pretreat stains. Once a stained garment makes its way through the dryer, chances are the stain is set for life. Protect your clothes by pretreating stains as soon as possible to help keep even the toughest stains from setting in. If you're unsure of how to treat a particular stain, such as spaghetti sauce or grass, Whirlpool offers a Stain Guide within its laundry app that provides helpful, step-by-step instructions*.
Keep your space organized. Just like it's hard to cook in a messy kitchen or work at a cluttered desk, you're less likely to be productive in a sloppy laundry room. Clean and organize your laundry area periodically so you have easy access to the supplies you need and a clean surface for folding fresh laundry or switching loads.
Take advantage of technology. New smart home technology is making laundry faster and easier, such as Whirlpool's Smart Front Load Laundry Pair with the Load & Go™ dispenser. This innovative feature allows you to skip a step in your laundry routine by eliminating the need to measure out and add detergent every time you start a load for up to 40 loads**.
Whether you are on the run or across the room, you can control your washer and dryer using an app on your smartphone or a compatible voice-enabled device for hands-free assistance. You can track how much time is left on your load while cooking dinner, assign washing settings while enjoying family movie night or begin a cycle when running errands. Touch-screen technology also guides you to the correct washer or dryer presets, or you can pre-program cycles of your own to tackle specific care settings for items like baby clothing or bulky comforters.
Finish with ease. For some, it's not the washing that makes laundry a drag, it's the folding. Hitting the tumble button to shake out wrinkles is one solution, but there are alternatives. Use your dryer's end-of-cycle buzzer as an easy way to keep track of when a load needs your attention or make folding a fun game with your family.
Find more information at whirlpool.com.
---
*Wi-Fi and app required. Features subject to change. Appliance must be set to Remote Enable for remote control capabilities. Details and privacy info at whirlpool.com/connect.
**Model WFW9620H. Based on an 8-pound load of laundry. The Load & Go™ dispenser capacity varies by model.
SOURCE:
Whirlpool
Post Your Spooky Events Here:
Post Your Sports Events Here:
Special thanks to Pixabay for allowing us to share your amazing work.
Spooky Attire…Coming Next Week
5 Ways to Keep Your Cat Happy and Healthy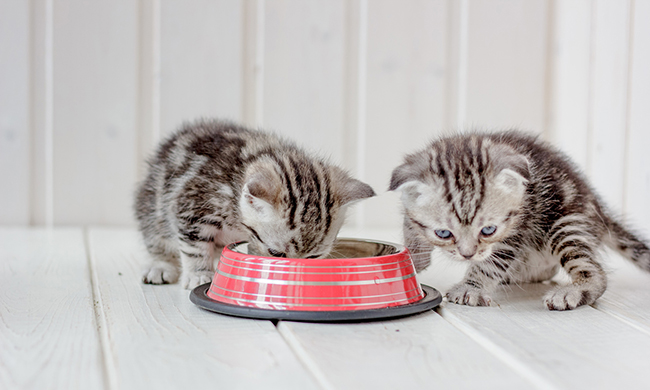 (Family Features) While cats can be quite independent animals, they still rely on their pet parents to maintain their well-being. It's up to pet owners to provide the adequate care, nutrition and home environment to ensure their furry friends live long and healthy lives.
Consider these tips and visit temptationstreats.com and iams.com for further guidance on raising healthy and happy cats.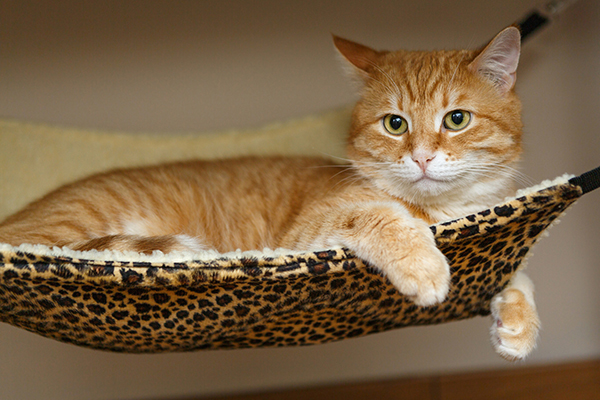 Designate a Special Spot – Make sure your cat has a space in the home where he can be unbothered and relax. This space can also be somewhere your cat can hide or snuggle up. Putting a cat tree with a lookout in a quiet spot can give your pet a perfect place for a catnap.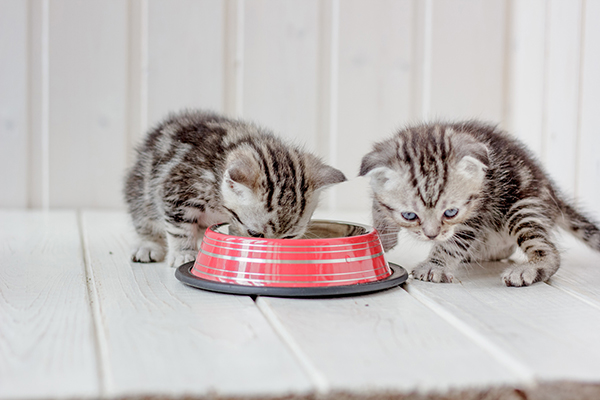 Provide a Healthy Diet – Diet is a vital part of your cat's health and wellness, and it's important to find a food that caters to your pet's specific needs and preferences. Look for food that fits your cat's needs like senior care, hairball control and oral care, so he receives the best nutrition at every life stage. For example, IAMS™ formulas provide wet and dry food options tailored to your pet's age, activity level and dietary needs.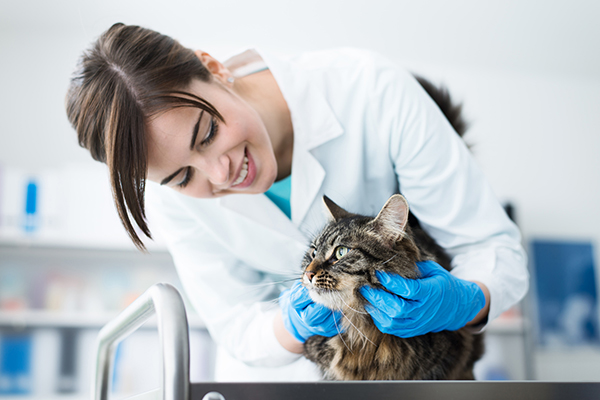 Regular Checkups – Cats are notoriously secretive about how they are feeling. Scheduling regular visits with your local veterinarian for vaccinations and checkups can ensure your pets are as healthy as they can be. Ask your vet how often you should schedule appointments, as every cat requires unique care.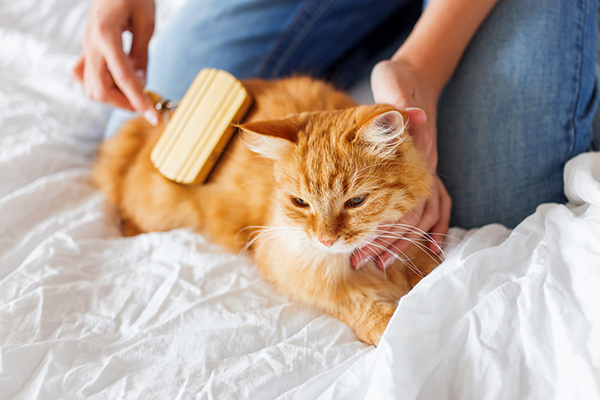 Groom Regularly – While cats may not need regular baths, they do sometimes need a little extra TLC to look their best. Depending on breed and lifestyle, each cat requires a different grooming routine. Longhaired cats should be brushed regularly to keep their coats nice and shiny while indoor cats may need their nails trimmed more frequently to avoid scratching.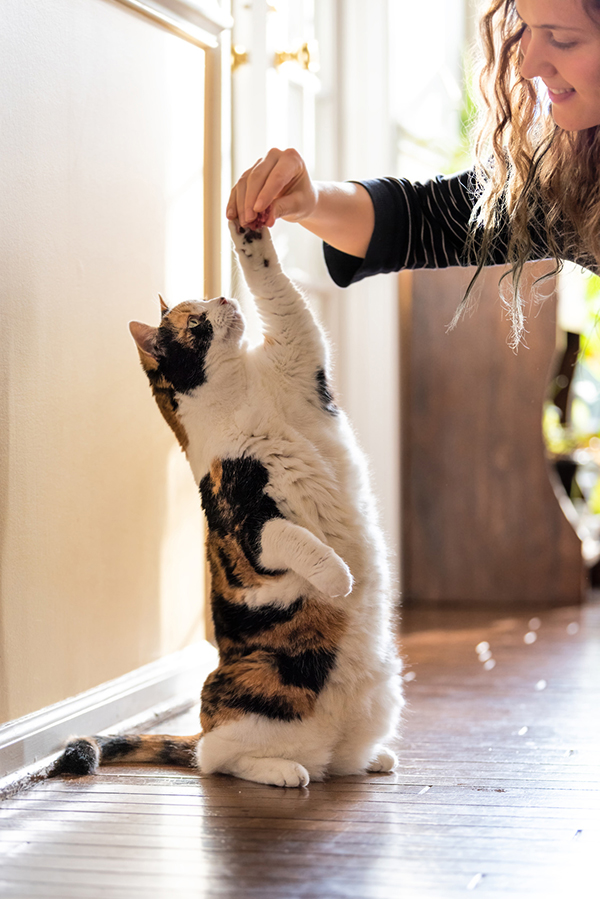 Playtime with Toys and Treats – Enrichment and bonding are key factors in a pet's well-being. Providing stimuli, like toys or scratching surfaces, encourages your furry friend's curiosity and natural behavior. Dedicate time each day to play and snuggle up with your cat to solidify your bond. A simple shake of a bag of treats, such as TEMPTATIONS™ treats, can make your cat come running and signal it's time to play.

Photos courtesy of Fotolia
SOURCE:
Mars Petcare
Thank You for Stopping by The Raleigh Kids Directory
Come Back & See Us Again!
Welcome to the Raleigh Kids Directory. We simplify the search for families to connect with local businesses by including all area services in one full color publication. Our publication caters to educational resources, camps, sports, child related activities, pampering for mom, and dads, and family events.
Contact us for more information: (919)945-6135 or TheRaleighkidsdirectory@gmail.com
KID YOU'LL MOVE MOUNTAINS
-DR SEUSS
Back-to-School Bus Safety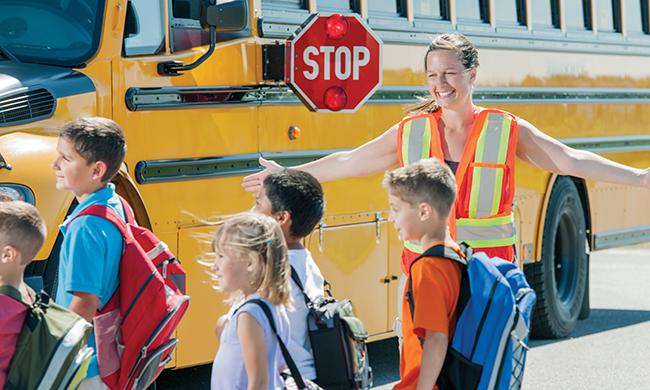 (Family Features) Another school year means millions of children across the country are boarding buses at the beginning and end of each day, and it provides an appropriate opportunity for parents, teachers, school administrators and students themselves to practice and enforce safety guidelines in and around the school bus.
Consider these tips from the experts at the Propane Education & Research Council (PERC) to help keep children safe before bus rides, during travel and after exiting the vehicle.
Before the Bus Arrives
Ensure backpacks are packed securely so papers and other items don't scatter as the bus approaches.
Create a morning routine that puts kids at the bus stop five minutes before the scheduled pickup time. This helps avoid a last-minute rush, when safety lessons are easily forgotten, and ensures kids are safely in place for boarding.
Encourage children to wear bright, contrasting colors so they can be seen easier by drivers.
Instruct children to walk on the sidewalk. If there is no sidewalk, advise them to stay out of the street, walk single-file, face traffic and stay as close to the edge of the road as possible.
Walk young children to the bus stop or encourage kids to walk in groups. There is safety in numbers; groups are easier for drivers to see.
If kids must cross a street, driveway or alley, remind them to stop and look both ways before crossing.
Verify the bus stop location offers good visibility for the bus driver; if changes are needed, talk with nearby homeowners or school district officials to implement changes. Never let kids wait in a house or car, where the driver may miss seeing them approach the bus.
Remind children that the bus stop is not a playground. Balls or other toys could roll into the street and horseplay can result in someone falling into the path of oncoming traffic.
Instruct children to stay at least three steps away from the road and allow the bus to come to a complete stop before approaching it.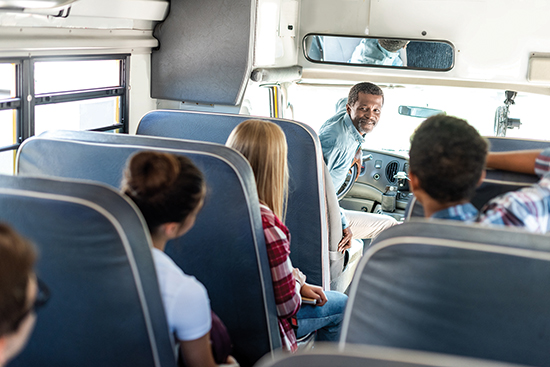 On the Bus Ride
When boarding the bus, items can get bumped and dropped. Caution children that before picking anything up, they should talk to the driver and follow instructions to safely retrieve their possessions.
Teach safe riding habits: stay seated with head, hands and feet inside at all times; keep bags and books out of the aisle and remain seated until the bus stops moving.
Remind kids that just like when riding in cars, loud noises are off limits so they don't distract the driver. That includes cellphones and other electronic devices; instruct children to put them on mute or use headphones.
Leaving the Bus
Remind children to look before stepping off the bus. If they must cross the street, teach them to do so in front of the bus by taking five big steps (approximately 10 feet) away from the front of the bus, looking up and waiting for the driver to signal that it is safe.
For parents who meet their kids at the bus, remember that excited kids may dart across the street. Eliminate the risk by waiting on the side of the street where kids exit the bus.
Make the bus ride part of your daily "how was school?" discussion. Encourage kids to talk about the things they see and hear on the bus so you can discuss appropriate behaviors and, if necessary, report any concerns to school administrators.
As bullying is prevalent and buses are no exception, ask children to tell you about any bullying they observe, whether against another child or themselves, and talk about how to shut down bully behaviors.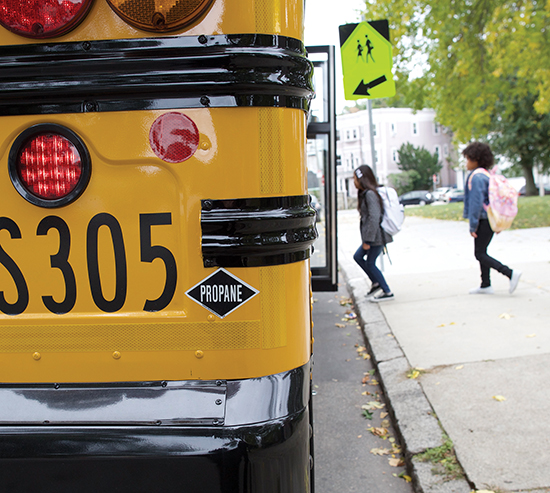 Rethink Your Child's Ride
While children and their parents can take many steps toward enhanced safety in and around buses, school districts also have unique opportunities to improve their transportation.
More than 900 school districts in 48 states across the country are operating propane-powered school buses rather than other fuels like diesel and gasoline. Alternative fuels, such as propane, offer multiple benefits for school districts and students alike because propane buses reduce harmful emissions, save money and create a safer ride for students riding school buses.
This school year, more than 1 million students will ride a propane school bus to school every day.
Parents and community leaders can engage their local school districts about the benefits propane buses provide:
Cleanliness
While diesel exhaust is classified by the World Health Organization as a carcinogen, propane buses don't expose students to the same harmful emissions. Propane school bus engines lower greenhouse gas emissions to near-zero levels, which improves air quality and eliminates concerns about breathing-related health issues.
Cost Savings
With school budgets continually at risk of losing funding, parents and schools can think outside the box to target extra savings. Over the life of the vehicle, propane school buses cost less compared to other fuels for a variety of reasons, including lower fuel costs and more manageable maintenance. Those lower costs on oftentimes large expenses can instead be used to fund student-based programs.
Better for Students
Propane buses are also noticeably quieter than alternatives. Noise level and safety go hand-in-hand when considering that a quieter ride allows drivers to focus more on the road as student conversations are less likely to reach higher levels in an effort to be heard over engine noise. With less noisy distractions, drivers are able to hear what's happening outside the bus – from horns and sirens to train whistles and more – and keep their riders safe. Additionally, the less distracting engine noise may allow drivers to more easily notice and address bullying behavior on the bus.
Explore the switch from diesel buses to cleaner alternatives by downloading resources available at BetterOurBuses.com, and consider starting a discussion with your children's school district.
Visit BetterOurBuses.com for more school bus safety tips and information.
Main and bus driver photos courtesy of Getty Images
SOURCE:
Propane Education & Research Council
Busy Moms
We Have Resources for You
New Resource Guide Coming Soon!
A Creative Twist on Halloween Carvings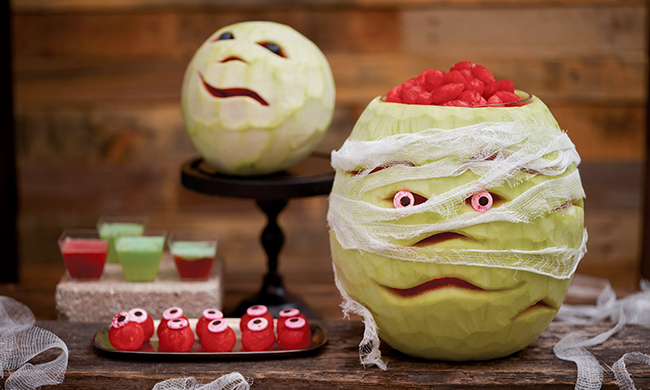 (Family Features) When it comes to Halloween, carving the same pumpkin designs each year can become routine. This year, save a pumpkin and carve your spooky masterpiece into a watermelon instead.
Nutrient-rich watermelon can be a healthy alternative to other sweet treats full of added sugar during Halloween festivities as it's a source of vitamins A and C as well as the antioxidant lycopene and the amino acid citrulline.
Because they are made up of 92% water, watermelons can be an effective way to stay hydrated during trick-or-treating, and creations like a Mummy or Jack O'Melon can help satisfy sweet cravings while keeping friends and family members frightfully delighted.
To get started, consider these carving tips and tricks:
To make cutting and slicing easier, the watermelon should be at room temperate when carving.
Cut a small, thin, flat piece from the bottom of the watermelon to provide a stable base for carving.
Draw the design on the watermelon rind with a dry-erase marker before cutting. If you make a mistake, this can make it easier to wipe off.
Use a sharp knife with a pointed tip for easier, cleaner cuts. Consider a paring knife with a smaller tip for ease of detail.
Blend scraps of watermelon that are too messy for dicing or slicing to create an easy juice.
For more watermelon carving ideas, visit watermelon.org.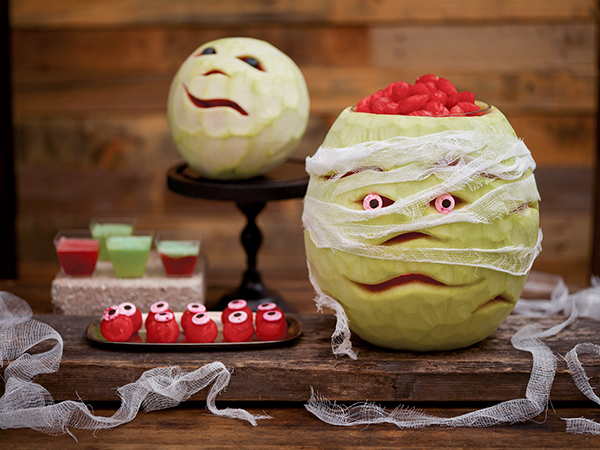 Mummy
Supplies and Tools:
Watermelon
Cutting board
Kitchen knife
Dry-erase marker
Paring knife
Melon baller
Scoop
Vegetable peeler
Cheesecloth or gauze
Straight pin (optional)
Battery-operated candle or light
Small bowl
Blueberries or bloody candy eyes
Toothpicks, pins or glue
Wash watermelon under cool running water and pat dry.
On cutting board, place watermelon on its side and use kitchen knife to cut off 1/4-1/2-inch of rind from bottom to provide sturdy base, being careful not to cut too deep into white part of rind. Cut 1-2 inches from stem end to create opening for bowl to be added.
Using dry-erase marker, draw eyes, nose and mouth, along with wavy slits around carving. Use paring knife to cut them out, being sure to cut through to red flesh to let more light flow through.
Use melon baller to hollow out inside of watermelon. Reserve watermelon balls. Use scoop to remove remaining watermelon.
Using vegetable peeler, remove green skin off outside of watermelon, similar to peeling cucumber.
Wrap thin strips cheesecloth or gauze around mummy carving and secure with straight pin, if needed.
Place battery-operated candle or light inside carving and fit small bowl into top of carving. Trim away excess rind to make bowl fit securely.
Fill bowl with melon balls. Attach candy eyes or blueberries using a toothpicks, pins or glue.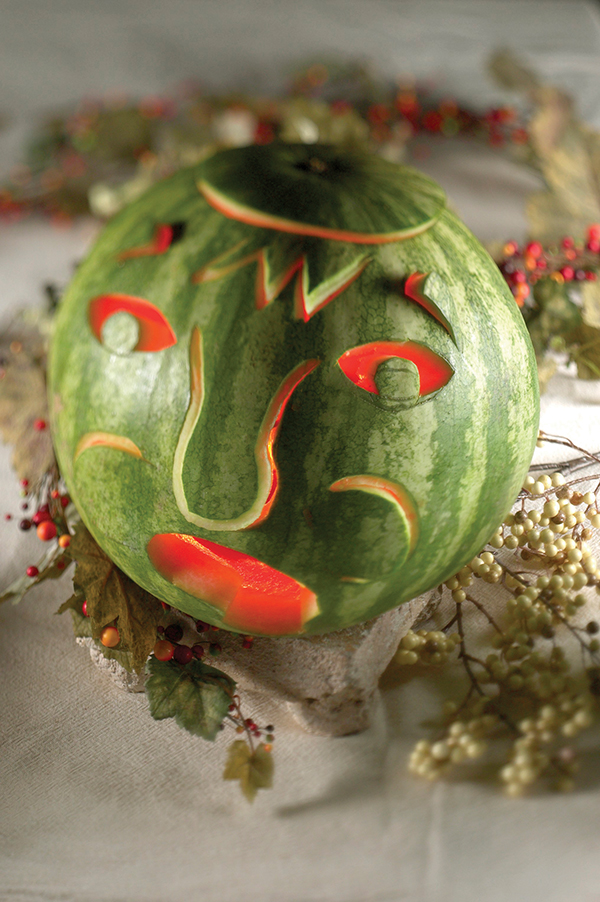 Jack O'Melon
Supplies and Tools:
Knife
Round watermelon
Melon baller
Dry-erase marker
Toothpicks (optional)
Battery-operated light
Using knife, cut thin slice from bottom of watermelon to provide stable base.
Cut circular piece of rind from top of watermelon big enough to reach into and remove flesh. Carefully remove top section and reserve for use as "lid."
Remove flesh from inside watermelon using melon baller, reserving melon balls for snacking. Hollow out remaining watermelon flesh and use blender to juice scraps and excess juice.
Using dry-erase marker, draw outlines of eyes, nose, mouth, hair, ears and other features on side of watermelon. If mistake is made with marker, wipe off using paper towel to start over. Following outlines, carve features into watermelon and remove excess rind.
Safe, battery-operated light can be firmly placed inside watermelon to provide haunting glow.
Place circular piece of rind back on top of watermelon.

SOURCE:
National Watermelon Promotion Board
Coming Soon!
New Resource Page
Want to Increase Your Business?
List it Here!
Contact Us for Details: Theraleighkidsdirectory@gmail.com
What Are Our Customers & Advertisers Saying:
Raleigh Kids' Directory
#Kid Life
Furry Friends and a Welcoming Workplace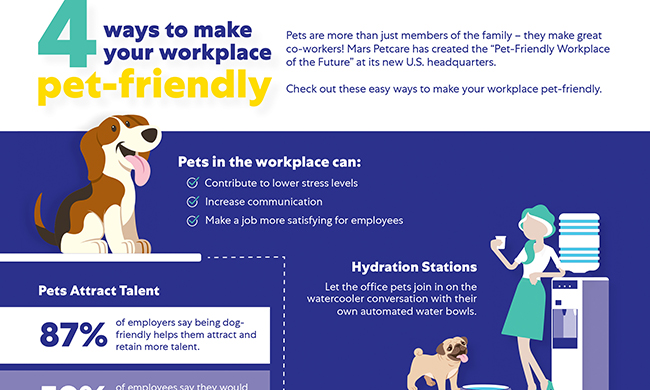 (Family Features) Pets are more than just members of the family – they also make great co-workers. As more offices work to create pet-friendly environments, a survey conducted by Mars Petcare shows that workspaces allowing furry friends are more likely to attract and retain (human) talent. Consider these four ways to make your workplace more pet-friendly and find more information at BetterCitiesForPets.com.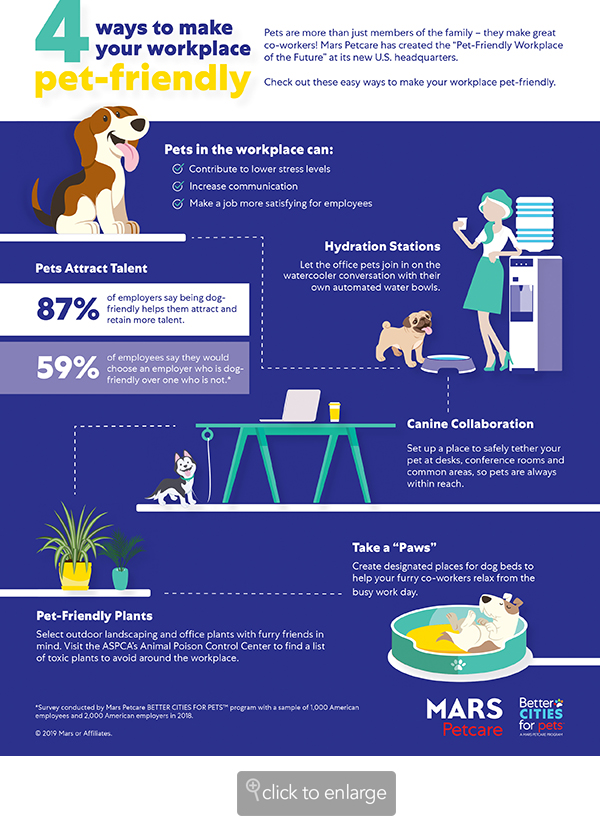 SOURCE:
Mars Petcare
Mandy Moore's Mindful Tips for a Well-Balanced, Lively Summer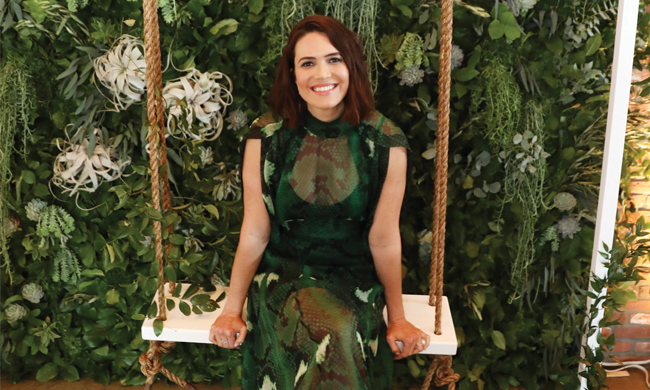 (Family Features) With plans of trips and relaxation on the horizon, it can be easy to give your wellness routine a vacation, too. Before you jet set off on your next adventure, take a moment to be consciously aware of how your mind and body may react to an overly active and jam-packed summer schedule.
"As someone with a busy lifestyle, having an intentional, balanced wellness routine helps me be my best self for my job, my friends and my family," said actress and wellness advocate Mandy Moore.
Partnering with Nature's Way to celebrate its 50th birthday, Moore shares a passion for paving a better way to wellness. While no single trick or technique guarantees well-rounded health, it's really about establishing habits that work best for you and your lifestyle. Your routine may often change daily depending where you are on your wellness journey, but Moore shares thoughtful considerations to always keep in mind:
1. Start from Within. It's important to understand the connection between your mind and body.
"I recognize it takes time, trust and baby steps, but the outcome is incredibly rewarding," Moore said. "I'm a strong believer in the power of therapy and find my most important work is done during the moments when I feel like I'm operating at 100 percent."
She also recommends downloading a meditation app, calling a friend or writing in a journal to help balance a hectic summer schedule.
2. Seek New Ways to Nourish Your Body. Wellness goes beyond simply what you put on your plate. Listening to your body can help you go the extra mile, especially when you're traveling, which is why Moore takes Alive! Women's Energy from Nature's Way, packed with 16 different health-benefiting vitamins and minerals.
Drinking water-based beverages is a big piece of her wellness routine, as well. She loves relaxing with tea sourced from around the globe and drinking water with liquid chlorophyll for an internal refresher.
3. Breathe in the Sights, Scents and Sounds of Nature. In today's fast-paced world, it's important to take time to breathe; to take in nature's true beauty. Watch a sunset, walk through a park or get away from the city lights so you can really see the stars shine. Be more proactive this summer and immerse yourself in environments that truly allow you to feel renewed.
Moore loves to go hiking and walks her dogs, Jackson and Joni, each day.
"There's something that's innately healing about feeling connected to the ground – feeling grounded, literally, to the world around you," Moore said.
4. Unplug to Recharge. Even if your schedule constantly keeps you on the go, it's important for your mental health and well-being to take time to unplug and find different ways to clear your mind.
"Take moments to step away from the computer, tablet or phone – put it in the other room, let it charge and do some­thing else constructive for your brain," Moore said. "Pick up a book, put on an album, call a friend, light a candle and decompress. I'm a big proponent of smell; sense therapy is really helpful for me. One of the first things I do when I get home is light a candle."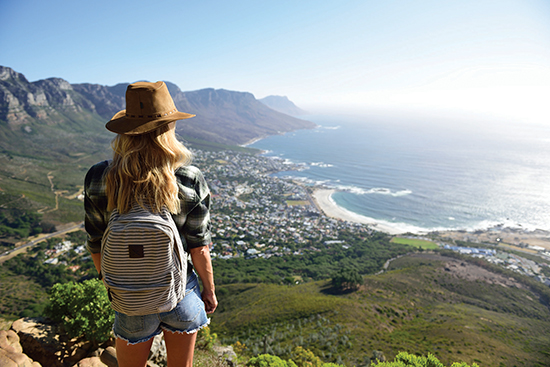 Summer Travel Advice
According to an AAA Travel survey, nearly 100 million Americans – 4 in 10 U.S. adults – are planning to take a family vacation in 2019, slightly more than last year, with road trips topping many vacationers' plans. Before you depart from reality, take a moment to ensure you and your loved ones are fully prepared with these tips.
Pack Your Patience
Be prepared for busy roads and long airport security lines throughout the summer. Bring books, games or music for the ride to keep kids and other passengers entertained. Pack healthy snacks for kids, especially if you can't fit in a full meal while traveling, and don't forget to pack a pillow as well as information on your destination.
Take Preventative Measures
Air travel, especially on international flights, can be stressful and lead to extra strain on your physical and psychological health. Fatigue, increased stress and mental changes have also been reported during and after long-distance flights, according to the U.S. National Library of Medicine. Take time to make sure your immune system is functioning at its best.
A study published in "Nutrients," found air travelers taking capsules containing elderberry extract before and during their trips experienced an improved immune system response versus travelers who were given a placebo.
Elderberry extract is available in a variety of travel-friendly formats. For example, Nature's Way, a pioneer in the health industry, offers Sambucus Elderberry Zinc Lozenges and Gummies, which can be found at most health and wellness retailers. Be sure to ask your health care provider for advice when adding a new supplement to your diet.
Break a (Free) Sweat
These days, many hotels and resorts offer on-site fitness rooms, but they may not always have your preferred equipment and machinery. If you decide to hit the gym, you may be able to score a free day pass. A lot of chain gyms, and even some local operations, may offer free, one-day trial experiences. With a little research in advance of your trip, you can ensure your fitness routine doesn't go out the window simply because you're away from home.
For more ways to take care of your body and mind this summer, visit 50.naturesway.com.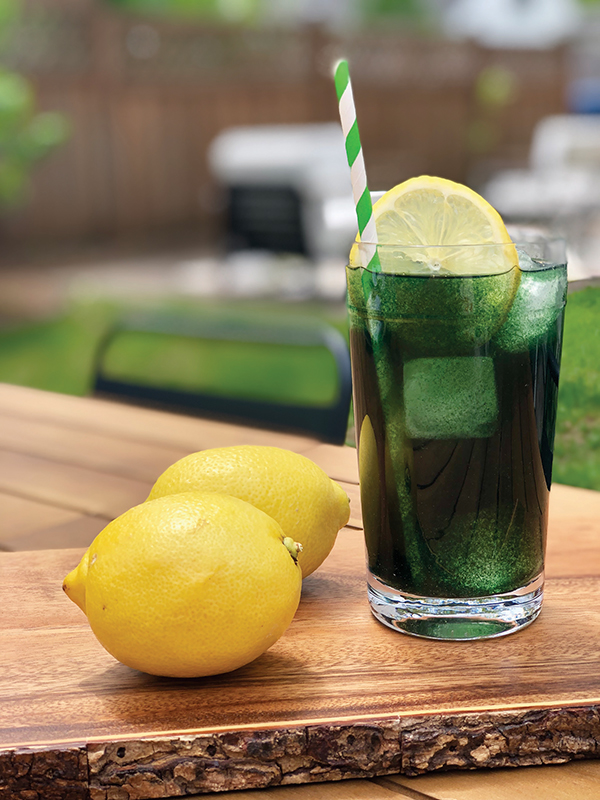 Cool Off with Chlorofresh
Servings: 1
8 ounces lemon water
1 squeeze fresh lemon juice
1/2 teaspoon ground ginger
1 pinch salt
1 teaspoon Nature's Way Chlorofresh Liquid Chlorophyll (unflavored)
Mix lemon water, lemon juice, ground ginger, salt and unflavored chlorophyll liquid. Serve over ice.
Photo courtesy of Getty Images (woman looking out to sea)
SOURCE:
Nature's Way